Two's Company, Three's a Crowd
PLAY SHOWS ALL SIDES OF COMMITMENT
Being the single friend in a group of couples isn't always ideal, especially when they're all worried about you getting married at some point.
SCC's rendition of Stephen Sondheim's "Company" tackles the issue of being a single bachelor surrounded by couples who are divorced, just tying the knot or well into their marriages.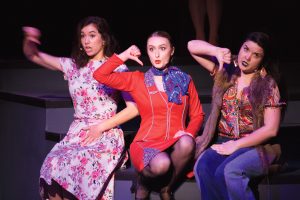 Matthew Lang plays Bobby, a bachelor in '90s New York. One night he comes home and is surprised by the company of close friends there to celebrate his 35th birthday. Following an upbeat, snazzy musical number, he is encouraged to make a birthday wish.
However, Bobby wishes for nothing.
The events in the play are all connected to his 35th birthday, which repeats three times over the course of the performance.
Lang portrayed Bobby spectacularly well, with his final performance of "Being Alive" becoming a personal favorite.
The audience got to see Bobby's transition from being afraid of marriage to finally admitting he wants to be with someone who also wants to be alive alongside him.
"Company" stayed true to its name as no character was ever completely alone in any scene until the final candle-lit birthday loop.
"Company" is a dark comedy focusing on the hilariously painful aspects of being in a committed relationship.
The SCC theater team members were powerful in their performances as married couples and single romantics.
Each actor brought their own flavor to their characters. From Karin Terry's explosive portrayal of Amy, a nervous neurotic newlywed; to Natalie Anne Moe's uptight character, Jenny, a "square" as deemed by her husband; to Bryce West's role as Peter, a divorcee exploring his sexuality.
The audience is thrown into an non-chronological timeline, focusing on Bobby's interaction with different characters.
Lang expertly slides into different parts of Bobby's personality with his co-stars. He morphs from just an aloof bachelor into a lonely single man secretly begging for the intimacy his friends share with someone else.
The main issue at the beginning is that, in looking at his friends' relationships, Bobby does not understand the benefits of being with someone.
"What do you get?" Bobby says to co-star Jeannette Legault's character, Joanne, after she realizes Bobby actually wants to take care of someone. "What do you get?"
Still, Bobby's love life does introduce trouble as we meet a mutually unrequited former love, a manipulated one-night stand and a radical but forgettable third paramour.
Miki Murray, Mimi Alexander and Jacqueline Alves took on the roles of Lang's three lovers. They performed exceptionally and beautifully, with their varying personalities and vocal talents connecting harmoniously.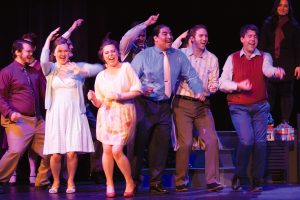 SCC's musical cast completed a fantastic number of performances. From the big opening song, "Company," to Bobby's hope of finding a woman who is a mesh of all of his female friends in "Someone Is Waiting" to Bobby's emotional uprising in the final "Being Alive" number, the cast succeeded in showing the raw feelings of each character.
Lang may stand alone for a moment but the gifted cast of "Company" always joins him once more at the end, the dexterous actors and actress shining in the spotlight as the audience roars in applause.