The Anatomy of Laughter
MEET THE MINDS BEHIND SCC'S COMEDY CLUB
SCC has a brand new Comedy Club, and it's off to a fantastic start.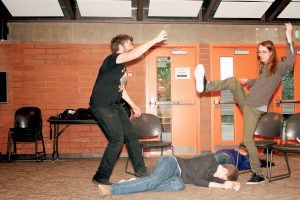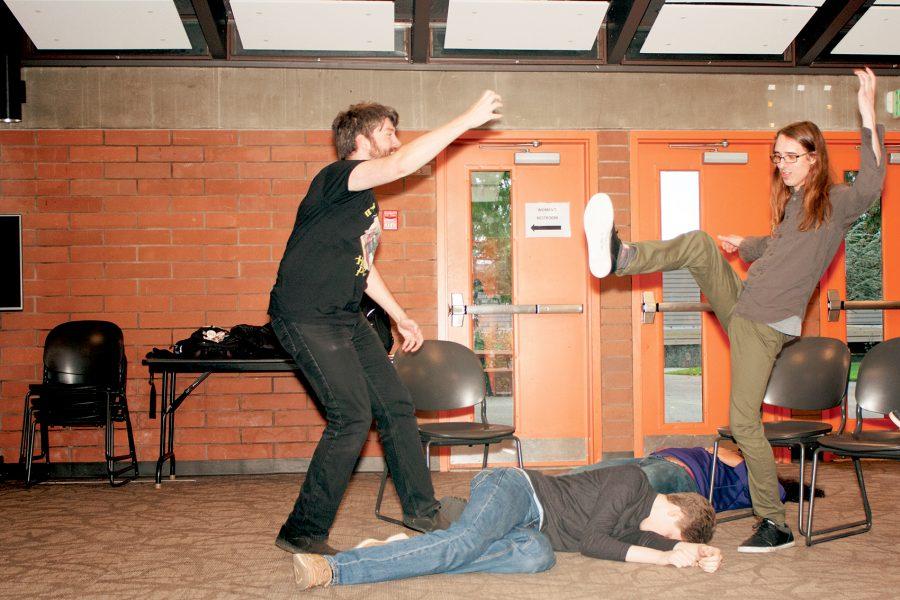 The very first meetings were held this quarter, and three of its representatives, Danny Bracy, Noah Bruckshen and Austin Olson, shared a summary of their club along with a personal analysis of humor itself.
Bracy, who directed his own incarnation of "The Importance of Being Earnest" through the Student Theatrical Society last summer, is currently in his fourth year at SCC. Bruckshen is also an avid performer with at least 15 SCC acting credits to his name. Olson graduated last year, and is returning to help get the club off the ground at the invitation of Bracy and Bruckshen.
All three of them got their foot in the door in different ways, but improvisational theater remains a common thread.
In Bracy's junior year of high school, socializing proved difficult. This changed, however, when he started doing improv. "I was funny," Bracy says. "And as soon as I realized I was funny, that sort of became my thing."
Olson always knew he wanted to be involved in some field of the entertainment industry, but it was only a matter of time until he narrowed it down to comedy. Seventh and eighth grade were his introductory years to performing improv, and this will be his sixth year doing so locally.
Bruckshen recalls his parents introducing him to classic television shows including "I Love Lucy," "The Carol Burnett Show," "The Dick Van Dyke Show" and "Saturday Night Live." He felt that artists who made people laugh were having a wonderful time, and wanted to do the same.
Their inspirations? Robin Williams, Gilda Radner, Carol Burnett and Lucille Ball are some of Bruckshen's top picks. Olson notes British comedy group Monty Python as one of his favorites, while Bracy enjoys modern comics such as Hannibal Buress and John Mulaney. However, Bracy explains that his primary motivation comes from the people he surrounds himself with, because they make him laugh more than anyone else.
The Comedy Club was conceived through a correspondence between Clayton Weller, founder of The Pocket Theater in Seattle, and SCC acting teacher Debra Pralle.
Weller pitched the concept to Pralle after realizing one day that it was something every college should have. Pralle, in turn, approached Bracy and Bruckshen to start the club after they stood out as the best contenders to run it. "It was a big compliment," Bruckshen says.
At some point in November, the club plans to host a 48-hour sketch event where all members will join forces to write, rehearse and put on the show within an entire weekend period. Anyone is invited to participate, even if they don't regularly attend meetings. The final product will be performed somewhere on campus, the location of which is yet to be determined.
They say they'd love to get the club involved in the local comedy scene, and send teams representing SCC to participate in events local to Shoreline. Since Bracy and Bruckshen will graduate this spring, they hope the club will act as their legacy — one that future students can keep alive after they're gone.
What is Comedy?
In a world full of subjectivity, what makes comedy good? Bruckshen's answer is a comedian who's not too cynical.
Olson has observed that among his favorite comedians, a shared trait is their ability to know when the script is not working for them.
Bracy's most valuable takeaway is the instinct of comedic timing and the art of staying in the moment.
Bracy likes to look at the environment a character is playing to, since the way the world reacts to the character can tell you the most about them. "If the situation is not funny, then an absurd character makes it hysterical," Bruckshen says.
"I think some of the funniest things are not funny." Bracy says. "Scientifically, laughter is the brain's response to something surprising — that's why you laugh, because your brain doesn't know how to comprehend something, or your brain is surprised by something," he says, "it's an involuntary response, and so I think that tells you a lot."
Olson says that laughter can also be born from recognition. He says the funniest thing about comedy can be honesty.
Political Correctness
Today, political correctness poses an interesting dilemma for comedians, leading them to question what they can and cannot say to avoid an offended audience. Bracy insists that people can say anything they want, but emphasizes the importance of both context and audience.
To navigate this, Olson suggests that instead of making a joke about a politically incorrect subject itself, one could make the person saying it into the villain. This way, the audience can laugh at the existence of the speaker rather than agree with them.
Furthermore, Bracy emphasized the value of "punching up" at the entitled versus "punching down" at the victim. He says that the key is to identify the middle ground.
Olson mentioned the television show "It's Always Sunny in Philadelphia," and the "terrible" things that the characters say. He says this is justified by the fact that you know what you're getting into when you watch an episode.
Bracy shared his take on why this works. "They're not punching down, they're punching up: at themselves," Bracy says.
Political Humor
On the topic of political humor, Olson is coming to realize its temporary qualities. He believes political comedy is not effective unless it pokes fun at the political system in general. Bracy responds by referencing the '60s wartime satire "Dr. Strangelove", a film that follows a fictional version of the U.S. government through its decision to go to nuclear war with the Soviets.
"It still lands, because it's so general," he says. "They're treating this situation that will cause the death of millions of people very trivially." Bracy explains that this tells us a broader story about who we are as people rather than what one specific politician is like.
On the other hand, Olson points out that a film like the 2008 Will Ferrell comedy "Step Brothers" is not as effective. "It will age because it did not take the care to depict a specific time," Bracy says. "It was just 'now' — and 'now' has changed."
Not All Laughs
Most artists will always encounter the lows of their art form along with the highs, and comedy is no exception.
Bracy explains the dilemma of being assigned the status of the "joke-y" one within friend groups, and the subsequent pressure that results from this expectation to be funny. "You can't be serious, you can't be sad; you can't be something else," Bracy says. Around new people, Bracy hesitates to be humorous to avoid what could potentially turn into an overwhelming role to play.
Olson fears that one bad show will result in an audience that never returns. Bruckshen concurs with this idea, pointing out that people who are critical of comedy are the most brutal.
The Future
SCC's Comedy Club, however, is no place for critics. All skill levels will be welcomed with open arms — in fact, Bracy says they want people who don't know what they're doing.
Bracy insists they are not going to teach you the "right way" to be funny.
"There is no right way to be funny," Bracy says. Instead, they will encourage club members to be true to their own sense of humor.
The Comedy Club meets in the theater lobby every Thursday at 3 p.m., and will explore a variety of activities such as sketch writing, improv and even stand-up. You can reach the club by sending an email to [email protected]