SCC's stage welcomed a popping set of performers who strummed strings, expressed lyrical souls and vocalized both popular and homemade music.
Four-man bands and solo serenaders showcased their creative energy in the 2017 SCC Student Talent Show on Nov. 16.
An array of activities and treats were open for several hours for fun-seeking students. The PUB's second floor was dedicated to student clubs, free pizza and the talent show in the cafeteria.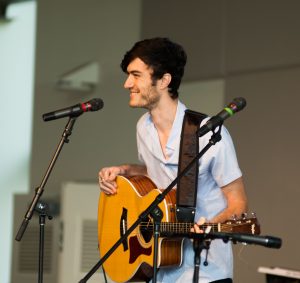 Matthew Doohan thanks the audience after his set. PHOTO BY: Aditya Sindhunata
Open Door Fellowship Club President and Running Start student Javan Khalsa hosted the free Costco pizza handout to hungry students. The Open Door Fellowship gathers at Calvary Fellowship located in Mountlake Terrace, where they open their doors on Sundays and Thursdays.
In connection to Open Door Fellowship, rapping duet Barnabas and Amy T performed in the small seated area right beside the PUB's Welcome Desk. The pair has been together for five years, sharing a connection through their church and passion for music.
Around the corner from both of the free events, the Japanese, Korean, Chinese, and Brazilian Football clubs were stationed outside the doors to the cafeteria. Most of the booths offered mini activities, such as the Japanese Club's "Kanji Mix and Match" game.
Inside the cafeteria, students sat quietly in respect to the 12 sets of performers. ASG Communications Officer Gary Wu and Michael Komala, a student events coordinator, were the hosts for the show.
Nearly all of the performers were musically inclined, from violinist Nihao, who waltzed into the audience; to the band Nestra, sporting a bassist, drummer, guitarist and singer. There were two acts, with six performers in both sections.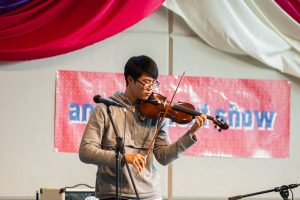 Wandering violinist Nihao focused on playing each note. PHOTO BY: Aditya Sindhunata
During intermission, students helped themselves to an Indian buffet. The cuisine was purchased from Garam Masala, located in the University Village.
Although last, but certainly not least, drummer Christina Yanos took home the win. Her drum solo was full of erratic movements and emotion — fitting for a drummer who was fulfilling her passion. It filled the entire cafeteria with noise.
After she was done, Wu said, "The only thing beating faster than her drum was my heart during that performance!"