Review: "The Half of It" Goes the Full Mile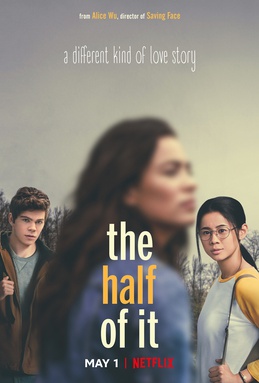 "The Half of It" blends comedy and poignance as the main characters deal with loss, turmoil and self-acceptance.
(Photo Courtesy of Netflix)
Despite being set in a fictional town, it should be clear to any Washintonian that "The Half of It" is an ode to the Pacific Northwest.
With lush rainforests and cloudy skies, the sleepy town of Squahamish could pass for any small Washington State settlement. However, looks can be deceiving: According to IMDB, the majority of the film was shot in New York.
Released May 1 on Netflix, "The Half of It" was directed and written by Alice Wu. Wu began directing after studying computer science at MIT and Stanford University and leaving her job at Microsoft. Her first feature film, "Saving Face," premiered at the Sundance Film Festival in 2001.
At the beginning of the film, viewers are introduced to Ellie Chu (Leah Lewis), a 17-year-old high school student who writes classmates' essays for cash as a side hustle. But Ellie has a secret: she has a crush on one of the most popular girls in school, Aster Flores (Alexxis Lemire).
Things become complicated when Ellie is approached by fellow student and aspiring sausage chef Paul Munsky (Daniel Diemer) to commission a love letter for Aster — who he also likes.
While the characters initially appear static in their niches of predictability, their evolution is delicate and thoughtful. Every revelation and connection creates incremental change within each of the players as the story unfolds.
The filming itself is phenomenal. With delicately-selected camera angles filled with bright colors used to set apart the dull greys of the environment, the photography is reminiscent of a Wes Anderson epic. Each frame is beautifully crafted to meet the storyline, giving the film an element of playful intention.
While somewhat cliche, the love triangle which defines the story serves only as a backdrop for the film's core values: navigating friendship, love, and relationships during the transition to adulthood. "The Half of It" blends comedy and poignance as the main characters deal with loss, turmoil and self-acceptance.
The next time you're craving a cozy, coming-of-age flick, consider saving this feel-good teen romance for a rainy day.
"The Half of It" can be streamed on Netflix.