REEL LOVE
FIFTEEN ROMANCE FILMS THAT TRANSCEND TIME
Perhaps no medium can personify love quite like the world of movies.
In 1896, audiences witnessed one of the first motion pictures ever screened — an 18-second long film depicting a man and woman embracing in a kiss. Although we've come a long way in the years since, the sentiment remains the same.
Here is a collection of films that represent relationships from all walks of life.
1. "West Side Story" (1961)
The ill-fated themes of Romeo and Juliet get a big-city upgrade in this musical, which follows the forbidden love between Puerto-Rican Maria (Natalie Wood) and white Tony (Richard Beymer).
In New York, teenage street gangs the Sharks and the Jets (who are also Puerto-Rican and white, respectively) can't see past the prejudice that separates them.
As if the politically-charged battle for territory weren't enough, tensions are heightened because Maria is the sister of the leader of the Sharks.
Told through song and dance numbers that are lively, humorous and bittersweet, this age-old story serves as a tragic yet powerful metaphor for any lovers who have encountered conflict as a result of cultural differences.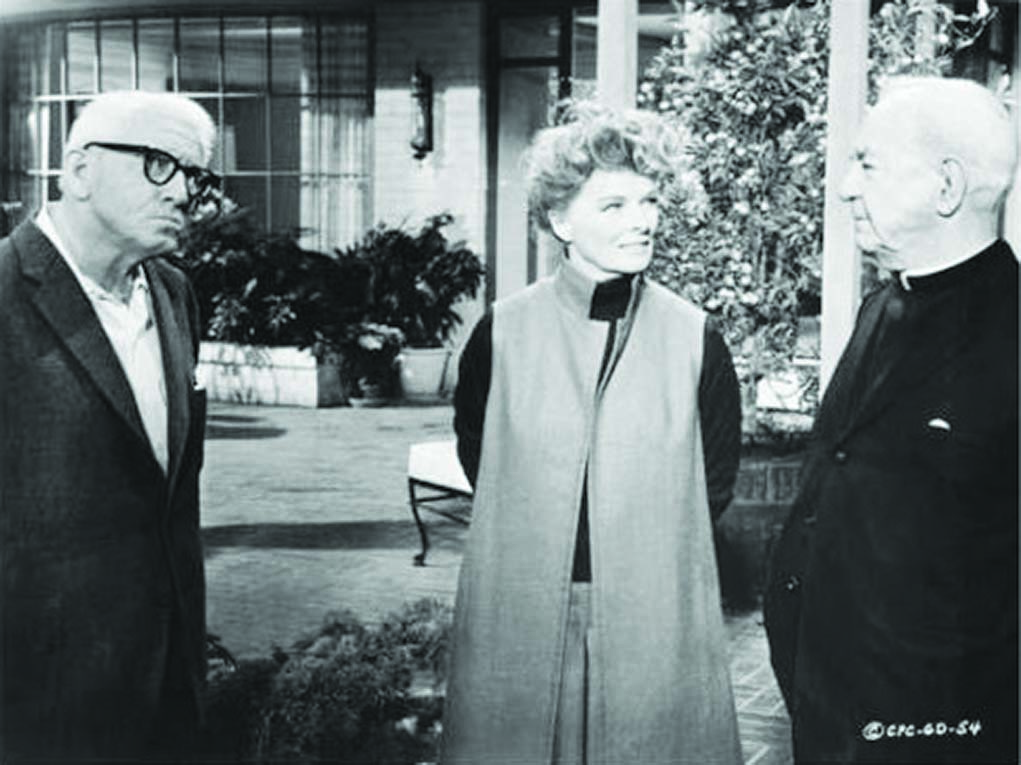 2. "Guess Who's Coming to Dinner" (1967)
Prejudice strikes again when a wealthy white couple are shocked to find that their daughter, Joanna (Katharine Houghton) intends to marry a black doctor named Matt (Sidney Poitier).
Love has rendered Joanna colorblind, but when Matt arrives at their home to meet her parents for the first time, he informs them behind her back that there will be no wedding without their unconditional approval.
Katherine Hepburn plays Joanna's laughably stubborn mother who can't help turning the other cheek when she realizes she must open her mind.
Events gradually build to a moving speech by Joanna's father (Spencer Tracy) as he dissects the roots of prejudice — more specifically, its sudden role in their family.
3. "Victor/Victoria" (1982)
Julie Andrews ("The Sound of Music") portrays Victoria, a British singer who personifies the phrase "starving artist" in 1930's Paris.
Her luck changes when she crosses paths with Toddy, an openly gay American performer played by Robert Preston ("The Music Man"), who devises a new act dependent upon Victoria's portrayal of what is famously dubbed "a woman pretending to be a man pretending to be a woman."
The show is a success, and soon, Victoria's entire career is riding on the charade as she and Toddy bask in rags-to-riches fame.
Wealthy Chicago nightclub owner King Marchand (James Garner) is not convinced by the disguise, however, and chaos ensues as he and Victoria navigate a risky romance in this jazzy musical comedy.
4. "Marty" (1955)
"When are you gonna get married?" This is what lonely butcher Marty (Ernest Borgnine) is constantly asked by his Italian family as he spends his days working and killing time with his best friend, Angie (Joe Mantell) in the Bronx.
Urged by his well-meaning mother one night to dress up and to go to a dance, Marty is initially reluctant, claiming that he's "just a fat, ugly man" — but eventually agrees.
At the dance is Clara (Betsey Blair), a woman who isn't traditionally attractive either. When her date deserts her, she flees in tears but is comforted by Marty who has witnessed the ordeal. The two bond over their isolation, and spend the rest of the night on the town.
Originally a deleted scene, certain versions of the film include a poignant moment from Clara's point of view where she returns home and delivers a heartwarming monologue to her parents about the good news.
"Marty" stands the test of time as a touching tale which reminds us that beauty is only skin deep.
5. "Brokeback Mountain" (2005)
During a summer-long sheep herding job across across rural Wyoming's fictional Brokeback Mountain in the summer of 1963, two cowboys, Ennis (Heath Ledger) and Jack (Jake Gyllenhaal) fall in love but must keep their feelings a closely-guarded secret in a world where appearances are everything.
Despite establishing families of their own and living in separate states, their correspondence spans the course of 20 years as they periodically meet at the mountain to keep their relationship alive.
6. "The Shape of Water" (2017)
In 1962, Elisa (Sally Hawkins) is a meek, mute woman who works as a cleaning lady in a top-secret government lab in Baltimore.
The only people in her life are her co-worker, Zelda (Octavia Spencer) and neighbor, Giles (Richard Jenkins), until she discovers the secret the lab is keeping: an amphibian man that pays visual homage to the classic horror film "Creature From the Black Lagoon."
When Elisa and the creature develop a romantic bond over their mutual alienation and lack of speaking ability, a love story ensues that is both unconventional and fantastical.
Elisa frees the creature with the help of her friends and a Russian spy (Michael Stuhlbarg) who is also interested in its safety — but must avoid the relentless pursuit of Richard Strickland (Michael Shannon), the lab-employed Colonel obsessed with its capture.
7. "Brooklyn" (2015)
The tension that existed between Italian and Irish immigrants in mid-century America is tangible as viewers follow Eilis (Saoirse Ronan), a young Irish woman who has just moved to New York City in 1951.
Here, she meets Italian-American Tony (Emory Cohen), and the two enjoy a budding relationship filled with movie dates and Coney Island outings. A family emergency requires Eilis to return home to Ireland, however, prompting the couple to hastily marry before she departs.
Back across the pond, a wealthy bachelor (Domhnall Gleeson) becomes the object of her affection — but when the small town's equally small-minded motives begin to shine through, she grows homesick for Brooklyn.
8. "Carol" (2015)
In 1950s Manhattan, soft-spoken Therese (Rooney Mara) is working at a department store during the holidays where she meets Carol (Cate Blanchett), a customer perusing her counter.
An unspoken interest is sparked between them, and when Therese realizes Carol has left her gloves, she uses it as an excuse for them to meet again.
After a trip to Carol's house where Therese witnesses an argument between her and her husband (Kyle Chandler), Carol sends her home — but the two later reunite for a road trip that serves as refuge for Carol from her divorce and husband's threats to reveal her homosexuality.
Along the way, the two women experience love, discovery and turmoil that comes with their misunderstood relationship.
9. "Love is a Many-Splendored Thing" (1955)
Set in 1949 Hong Kong, an American correspondent named Mark (William Holden) crosses paths with Eurasian doctor Han Suyin (Jennifer Jones), and the two subsequently fall in love. Based on experiences from a novel penned by the real life Suyin, the film documents their relationship as interracial uncertainty grows into unconditional love.
Although they encounter slight prejudice, namely from Suyin's Chinese family and co-workers at the hospital she works at, her love for Mark never lets up — even when he is sent to Korea to report on the beginning stages of the Korean War.
10. "Blade Runner" (1982)
The place: Los Angeles. The year: 2019.
In a dark, rainy, dystopian future where most of the population have departed the planet, Rick Deckard (Harrison Ford) is a cop employed with the sole purpose of finding and assassinating a handful of human-like androids that dwell in the city, known as "replicants."
While hostile replicants Roy and Pris (Rutger Hauer, Daryl Hannah) set out to meet their maker (Joe Turkel) for answers, Deckard meanwhile develops a romantic relationship with a replicant named Rachael (Sean Young) in this science-fiction tale that questions humanity and identity.
11. "Bell, Book and Candle" (1958)
It's approaching Christmas, and a family of present-day witches including Gillian (Kim Novak) and Nicky (Jack Lemmon) are living in Manhattan's Greenwich Village.
When Gillian learns that her unsuspecting neighbor Shep (James Stewart) is engaged to her college rival, she casts a spell to take him for her own. Eventually, Gillian finds herself transfixed with Shep — but with falling in love comes the risk of losing her powers.
Set to a swinging soundtrack, this whimsical film is the perfect ode to anyone who has experienced unrequited love.
12. "Allied" (2016)
During World War II, Max (Brad Pitt) and Marianne (Marion Cotillard) are assigned as partners on a mission to assassinate a German ambassador in Casablanca. While posing as husband and wife, they inevitably become real life lovers and later settle down in London.
A full year passes, and they are leading a peaceful life until Max is pulled aside by the government and informed that Marianne might have been a German spy all along. Unbeknownst to Marianne, Max is instructed to conduct an in-home test which will reveal the truth. If the suspicion is proven, his orders are to execute her by his own hand — or face execution himself.
Through intense action and gripping suspense, "Allied" tells the story of jeopardized love caught up in a torturous case of Catch-22.
13. "Broadcast News" (1987)
Jane (Holly Hunter) is a driven producer trying to make ends meet in the newsroom.
Her friend and co-worker, Aaron (Albert Brooks) has had a long-time crush on her, but seemingly has no chance when Jane falls for a new anchorman named Tom (William Hurt). When Tom is hired for his dashing demeanor, a workplace love triangle is established as Jane and Aaron mesh intellectually while Tom's charm holds her spellbound.
In this dramatic comedy, Jane must juggle work, friendship and love while trying to maintain her dignity in the face of Tom, who epitomizes every news cliché she stands against.
14. "The Graduate" (1967)
After recently returning home from college, 20-year old Benjamin (Dustin Hoffman) has no plans for a career or even the next day, despite the giddy inquiries of his parents and their friends.
One such family friend, Mrs. Robinson (Anne Bancroft) becomes infatuated with him despite being twice his age and married. Benjamin succumbs to her seduction, and the affair eventually turns possessive when she forbids him to date her daughter, Elaine — though he has no desire to do so in the first place.
When Benjamin's parents force him to take Elaine out and he ends up falling for her, however, the jealous Mrs. Robinson threatens to reveal their own relationship. The highs and lows of this darkly humorous coming-of-age story are reflected in its iconic soundtrack featuring Simon and Garfunkel.
15. "Groundhog Day" (1993)
What if you had unlimited chances to win someone's affection?
In this comedy, anchorman Phil (Bill Murray) is begrudgingly sent to Pennsylvania with his news team to cover a small town's cookie-cutter Groundhog Day celebration. By a twist of fate, he begins awakening to a repeat of the same day every day — though the rest of the world is none the wiser.
After the initial shock wears off, Phil uses this unique opportunity to get away with crimes, petty shenanigans and speaking his mind. But as the days go on, he realizes he has feelings for fellow newscaster, Rita (Andie MacDowell).
In order to win her over and attempt to break out of the time warp, he must repeatedly reinvent himself as a better person.