Painting Away the Trauma Ⅱ
Art Exhibition Coming Soon…
The WA AmeriCorps VetCorps and SCC are hosting an event for veterans to showcase their artwork. Painting Away the Trauma Ⅱ will take place in the PUB. The exhibition will take place on April 26, from 9 a.m. to 6 p.m. The event will have a keynote speaker, Micheal Reagan. The Veteran & Military Student Services urges veterans to submit artwork for the exhibition. Thus, they can share themselves and their military experience with the community.
Morgan Davis, SCC's Vet Corps Navigator, emphasizes the importance of art therapy for veterans. For some veterans, it is hard to reintegrate into society. Traumatic feelings and thoughts can be almost impossible to express verbally. In those instances, art is essential for veterans to decipher the relationship between who they are and what they've experienced.
"
Recent combat veterans returning home from their time in active duty, including conflicts in the Middle East, have found art therapy helps them overcome their traumas
— Morgan Davis, Shoreline CC Vet Corps Navigator.
Keynote speaker, Micheal Reagan based in Edmonds, is known for his portraits and military service during the Vietnam war. Reagan has combined these two aspects of his identity on his Fallen Heroes Project. In which he's drawn over 4,000 portraits of fallen heroes. His work acts "…as a comfort in their [families'] grief and to honor their loved one's sacrifice for our country."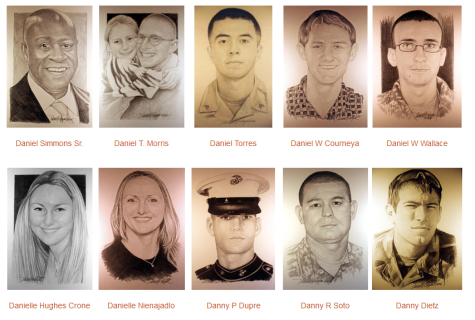 Painting Away the Trauma Ⅱ will demonstrate the power of art. Art is in our everyday lives to power boxes on the side of the street to the clothing we wear. Eve Westmoreland, former A&E Editor at The Ebbtide, said in her article, "Painting Away the Trauma" delved firsthand into the impacts military service can have on everyday lives…" In that way art and military service have an intimate relationship with intertwining impacts. And in a world clouded by confusion, art serves these veterans as the calm in the storm.
If you are a veteran interested in submitting sample work, e-mail [email protected] for more information. This event is free to everyone in our community. Come experience the creativity showcase this April.