FACULTY ART SHOW GRACES GALLERY
Two contrasting artists shared a single space to showcase their work at the SCC art gallery this spring.
Those artists were Nicholas Enevoldsen and Gary Georger, two SCC art instructors. Enevoldsen is a painter who utilizes oil paints on small and medium frameless canvases, and Georger is a potter who creates abstract pieces.
The new faculty exhibit, "Converging Landscapes," opened on March 26 and ends on May 4 in the lobby of the Administrative Building.
The Painter
Six of Enevoldsen's oil compositions, from his series "Modern Spectacle," were placed strategically along both walls. His paintings seemed to be organized based off of their similarities to the works beside them. On the left wall, the three pieces featured were "Morning Market," "Central Avenue" and "South Station."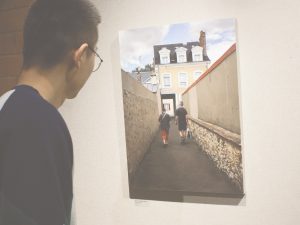 All three of the works showed little to none of the subjects' faces. Enevoldsen draws from photos he takes of everyday scenes from the places he has traveled. He uses a "dead-pan" technique, which focuses on one to two perspectives, and according to Enevoldsen, his pieces are meant to be quiet.
For instance, "Morning Market" started as a picture Enevoldsen took of his in-laws from behind while walking down an alley in Nogent-le-Rotrou, France.
The sunlight in "Morning Market" was obscured by the clouds, casting half-light and shadows upon the two subjects. Enevoldsen's technique followed the way the skin falls, shedding light where it needs to be on their bodies. His attention to light and shadows is the most pivotal aspect of his "Modern Spectacle" series.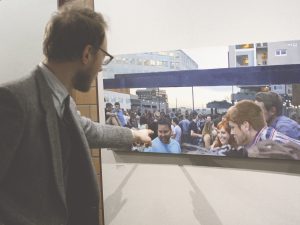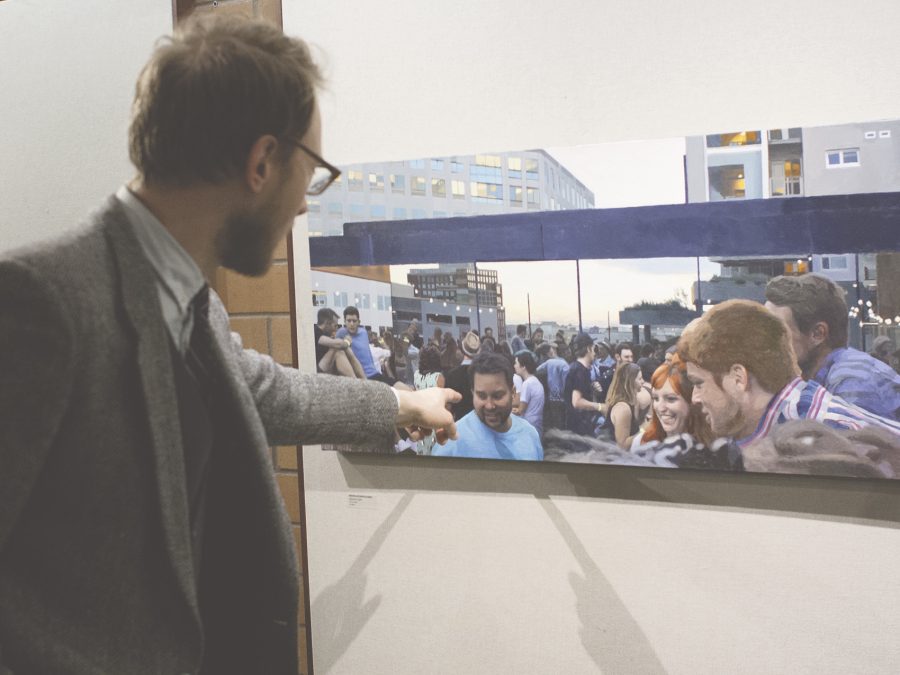 On the other wall, Enevoldsen's work shifted to more populated environments. In "Opening Night," taken in a well-populated portion of downtown Denver, Colo., Enevoldsen kept the soul of the photograph intact in his oil composition.
Enevoldsen used to take a surrealist approach to his work, but his current gallery shows how he has transitioned into realism.
The Potter
Georger has backgrounds in painting and pottery, both of which he utilizes in his current works. All ten of Georger's pottery creations are in the gallery.
Georger's favorite pieces are "This Land is Your Land" and "Yearning To Breathe Free." Both display clay designs wrapped with barbed wire.
The works are completely open to the viewer as Georger says they are not specific to any situation. "Yearning to Breathe Free" is the largest of Georger's gallery pieces, showing groups of clay figures of different shades standing in random spots on the barb-encased structure.
Unlike Enevoldsen's work, Georger's work isn't influenced by photography but by his physical experiences with the world around him: "Flying, snorkeling, biking, looking. Just experiencing that texture from the environment all around us," he said.
Georger said he takes on an abstractive view, sketching as he goes and not relying on a fixed image.
Generally, Georger said he would need to be in the right headspace or environment in order to "absorb the space (I'm) working in."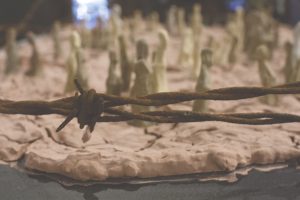 Georger said his work is also influenced "politically and humanly." He said artists are communicative through their arts. Though the bigger picture isn't seen right off the bat, much like in Enevoldsen's work, searching for the content brings the answer to the viewer.
The Pupils
Curator and instructor Claire Putney invited her Associate of Fine Arts (AFA) class to the exhibit in order to prepare the 20 students for their AFA Studio thesis and presentation at the SCC gallery in three weeks.
The exhibit seemed to inspire the students. The AFA class slowly traveled from one piece to another, with most seeing their teachers' works for the first time in person.
"I've seen (these paintings) mostly in powerpoints, photographs," said student Thor Peterson. "I've never seen them in person."
Peterson had taken all three of Enevoldsen's painting courses at SCC. Peterson said that seeing the paintings in person allowed him to see his instructor's mistakes and flaws, which Peterson sees in his own work.
"Now, I feel way better about it," he said.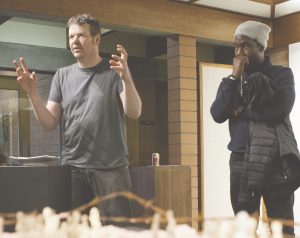 Although two very different styles of art were on display for art lovers and curious bystanders alike, there was a connection that could not be missed. A small portion of SCC's art students got to see works in a gallery from individuals they knew personally. And starting on May 7, the AFA class will be showcasing their own art in the same gallery as Georger and Enevoldsen.
The faculty exhibit seemed to leave a lasting impression on its viewers. Georger and Enevoldsen's contrasting works offered a diverse view into the world of art and the stories and building blocks behind creative pieces. There could be context or there could be none. There could be planning or there could be improv. There could be realism or surrealism.