DAIPANbutoh
It has been said that any day you don't learn a new thing is a day where you wasted your time. Well, between now and April 13, if you head over to the SCC gallery in the 1000 Building, that new thing you learn could be butoh.
Butoh is a body-based performing art, a Japanese dance theatre. It originated in Japan in the 1950s and was founded by Hijikata Tatsumi and Ohno Kazuo.
Kazuo and Tatsumi had opposing perspectives on beauty and differences in their artistic tastes, but they both wanted to reveal elements of deep inner life through the undeniable truth of the body, which was the reason they collaborated with each other and ended up forming butoh.
Butoh performers usually have white paint all over their bodies when they perform. Some say that when performing butoh, the dancers are not moving their body, rather they are being moved in slow and controlled motions.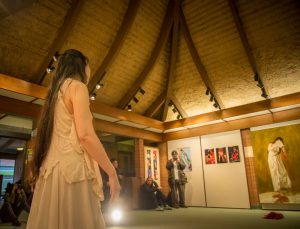 Butoh used to be performed only in underground art scenes in Japan but it has since evolved into a worldwide sensation.
If this piques your interest, you're in luck. Butoh has come to SCC.
SCC is collaborating with a Seattle-based group called "DAIPANbutoh" for the most recent exhibit in the 1000 Building's art gallery, as well as for a series of performances.
The members of "DAIPANbutoh" are all performers and educators sharing their interests in butoh.
"DAIPANbutoh" aims to "explore and support the work of its members, provide educational opportunities, produce evocative performances and host an annual butoh festival."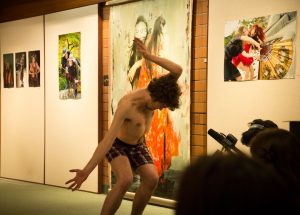 Joan Laage is a member of DAIPANbutoh, and has been in it since it was first formed in 2009.
In 2009, the future members of DAIPANbutoh wanted to make a collective that would act like their "umbrella" and that would support their individual and collective work while also bringing in national and international artists to Seattle.
In fact, the name 'DAIPAN' originated from the name of Laage's previous company, "Dappin' Butoh." 'Dappin' is 'shedding' in Japanese; it was the name of Laage's first performance that took place in 1998.
Members of DAIPANbutoh are all supportive of each other's work and sometimes even collaborate with their different styles; they have all come from varying butoh backgrounds — some trained in the U.S., Japan and many other countries.
Claire Putney, a photography/drawing instructor at SCC, said that as she views butoh, she is "captivated by the empathy I have for the movements, facial expressions and rhythm of the performers."
There is no clear definition of what butoh dancing is supposed to look like, there has never been a guideline on what its movements should be, it has more freedom than that.
According to Putney, "Butoh shape-shifts with sensations, emotions, imagination and a natural flow of movement that takes us beyond the pretty into a deeply authentic, present moment."
Putney says that butoh is worth seeing because the audience is so "enveloped in a space of movement and time" that she feels like she becomes a part of the performance.
Putney has a special appreciation for the "humanistic" qualities of butoh, saying that it tends to show human qualities embedded in its performance, especially "self awareness (and) vulnerability."
Putney also comments on the artists of "DAIPANbutoh": "Each has a unique style, while being united in the commitment to poetic transformation through deep listening and flowing with what emerges, trusting the truth in the body."
Explore this foreign art theatre in our very own backyard, the "DAIPANbutoh" exhibition at SCC will be displayed until April 13. The last performance is from 4:30-5:30 p.m. on March 17 in the lobby of the 1000 Building.
-Madeline Kimberly