"Almost, Covid:" Director Bryan Golden Talks SCC's Latest Theatrical Endeavor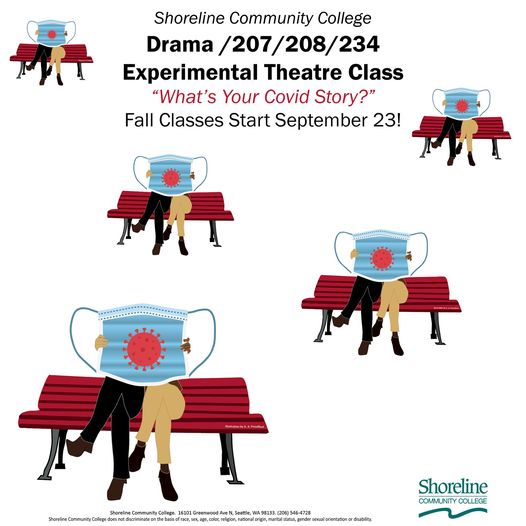 Throughout fall quarter, SCC's newly-minted Experimental Theatre class filmed a hybrid documentary called "Almost, Covid."
Acting teacher Bryar Golden directed and produced the project alongside students Ann Larson, Molly Hall and Clark Roberts. Tony Doupe, head of SCC's Drama and Film Department, provided additional support and has a cameo in the movie.
The story follows three filmmakers (portrayed by the production team) going through monologues and interviewing subjects for a documentary about COVID-19. These monologues and interviews are a compilation of short stories from a diverse cast of students' experiences during the pandemic.
In the words of Golden, "it's about the lives of students — not just about getting sick, but the way they've been impacted by it."
Golden explains that the title "Almost, Covid" is an allusion to the title of the 2004 play "Almost, Maine."
"Almost, Covid" parallels "Almost, Maine" in its multiple stories chronicling the effects of love and loss, albeit within different contexts. While "Almost, Maine" showcases the lives of the populous in the largely unknown town of Almost, Maine, "Almost, Covid" gives voice to stories from SCC students.
Golden said that directing through Zoom presented additional challenges in that the students would film themselves and cooperate with Bryar and the production team over Zoom. Before filming wrapped earlier this month, there were three weeks of writing and planning ahead of rehearsals.
Now, editor George Watt is bringing the production together alongside audio editor Nicky Woolwine.
Stay tuned for more information surrounding the release date of "Almost, Covid."