Absurdity in Atlanta
When FX's Atlanta aired in 2016, it really resonated with me on a personal level. I watched every episode at least twice when they premiered.
FX is currently airing the fourth and final season of the comedy-drama series 'Atlanta.' The show's creator and main star Donald Glover plays Earnest 'Earn' Marks, a college dropout and manager for up-and-coming rapper Alfred 'Paper Boi' Miles (played by Brian Tyree Henry). The show switches perspectives between multiple characters, such as Earn's gifted daughter, Lottie (Austin Ellie Fisher), her soul-searching mother, Vanessa (Zazie Beetz), and eccentric couch-surfer, Darius (Lakeith Stanfield).
The show opens in the middle of things as Alfred, Darius and Earn are caught up in a violent altercation that kickstarts Paper Boi's presence and infamy in his community . The show is less about the music and more about social commentary on intersectionality, which is defined by the ways in which systems of inequality based on gender, race, ethnicity, sexual orientation, gender identity, disability, class and other forms of discrimination intersect to create unique dynamics and effects.
Later seasons take more liberties; In their third season, the cast goes on tour through Europe with Alfred. It alternates between anthology episodes that go back to Atlanta and the present day Europe trip. Season four serves to wrap up each of these characters' arcs. Throughout the show's duration, it focuses on social commentary about race.
The show boasts an all-black writers room. Two standouts are comic-writer-producer Jordan Temple and Stafani Robinson, who also wrote for Man Seeking Woman(2015-2017), a show that shares the otherworldly feel that Atlanta excels in.
A key concept in the show is Afro-Surrealism, which is defined as the absurdity of the reality of Black life. You could just call it surreal, but Black identity plays an integral part of the narrative in each episode.
And maybe that's why this was such an appealing show. It is something that I saw in my life, but never quite so vividly on television. I frequently and deeply relate with the ridiculous melodramas that the characters find themselves in as they combat problems in their lives, most directly tied to their intersectionality.
During my time in the Black Student Union at Shorewood High, I once brought the show up for discussion. We were talking about cultural appropriation and I referenced season one, episode seven of Atlanta FX, titled B.A.N.(Black American Network) that features Paper Boi in a tedious interview on a talk show with parody ad breaks. Towards the latter half, a man born black, played by the exceptional Nileseyy Niles, identifies as "a 35-year-old white man". They call the phenomenon Transracial identity, a reference to Rachel Dolezal, a Spokane woman who publicly identified as African-American until her parents outed her as white.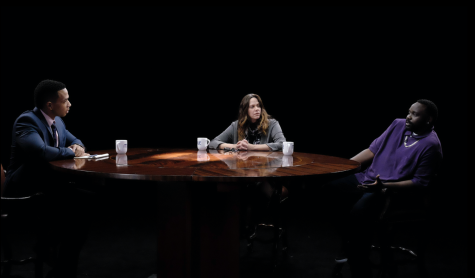 This message was brought to you by…
Glover is one of a few creators that were successful on YouTube back in its heyday. He made popular skits with Derricks Comedy, with whom he later made an indie movie titled Mystery Team (2009). In the years since, he's amassed over 300 credits that range from acting, directing, writing, producing and music in addition to the creation of four studio albums.
The End?
Donald has gone on the record to say that he's a firm believer that all things need to come to an end, and given some current trends in television, maybe he's right. Hugely popular shows such as HBO's 'Game of Thrones' or the additional seasons by Netflix of 'Arrested Development' failed, their endings considered half-baked and weak by critics and audiences alike.
"I feel like when the conditions are right for something, they happen, and when the conditions aren't right, they don't happen. I don't feel any longevity. Because then things start to get weird. The story was always supposed to be what it was. And the story, it really was us. Everybody in that writers' room, everybody on set. It really was what we were going through and what we talked about. … I think it ends perfectly." Glover said during FX's portion of the Television Critics Association winter press tour.
The next episode airs next Thursday, November 3rd, 2022. And its finale is the next week, on Thursday, November 10th, 2022. Atlanta has spectacularly defied conventional television, so it's bittersweet that 'Atlanta' is close to an end. I believe that the creative team on Atlanta will deliver something that will be looked back upon favorably and revered by the industry for years to come.