Washington Gov. Jay Inslee Takes Environmental Action at SCC
Climate bill signing ceremony leads to controversy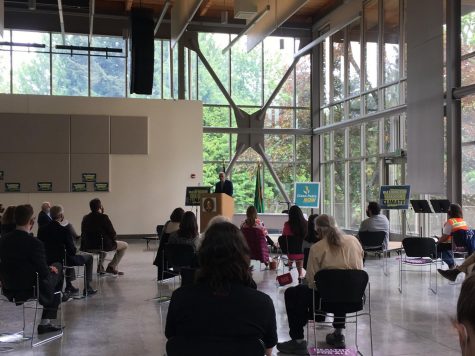 The Washington legislature is working to solve climate change — and the SCC campus can now say it's been part of the process.
In a Monday ceremony held in the PUB, Gov. Jay Inslee signed a climate priorities package into state law. SCC was the final stop in a climate legislation trip around King County.
Inslee's climate priorities package consists of three bills. One is meant to limit businesses' use of fluorinated gases, which cause greenhouse gas emissions, while another will implement a low-carbon fuel standard for transportation.
The third bill, called the Climate Commitment Act, is designed to reduce Washington's carbon pollution to net-zero by 2050. Among other policies, the bill introduces a "cap and invest" program that will require facilities to pay increasing rates for carbon emissions.
The legislation provides the state with additional benefits. "This is a jobs package to solve climate change," Inslee said, referring to the expanding clean energy industry. "We're going to put people to work with these bills."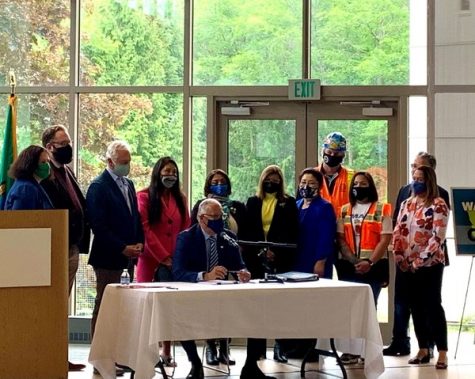 However, conflict arose at the signing when a number of audience members protested Inslee's decision to veto a section of the Climate Commitment Act. The section required the state to obtain Native tribe consent before beginning projects involving tribal interests.
In a veto message, Inslee stated that the section "does not properly recognize the mutual, sovereign relationship between tribal governments and the state."
Additionally, sections were vetoed in both the Climate Commitment Act and clean fuel bill that required the establishment of a transportation-funding act before bill policies could be implemented.
"We cannot delay its implementation until some unknown time in the future — the crisis is now, and we must act now," Inslee stated in a separate veto message.