Protesters Pave the Path to Accessibility
SCC students bar the road to protest against inaccessibility on campus.
SCC has committed to creating an inclusive campus for everyone, promising that "You Are Welcome Here." Some students feel that the college is not living up to its promise. On April 18, some students decided to take the fight into their own hands and staged a protest against inaccessibility on campus.
The morning sun barely peeked out of the silver-lined clouds, struggling to keep the gathering of students warm. Nearby, cold metal chairs stood on steep paths, with each chair wearing its own sign. While some people passed by, unfazed by the obstacles in their tracks, three students sat outside the PUB building in the cold for hours and demanded the right to an accessible school.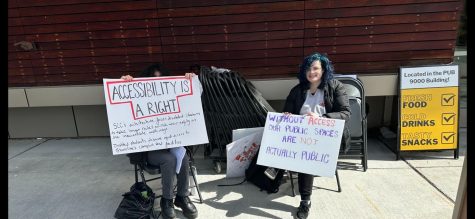 "If you're not making an effort to make it true, what does it matter?" said SCC student and protest organizer, Emily Perri. For Perri, a campus that welcomes everyone is worth fighting for. As a student with disabilities, she has faced challenges while attending the college, especially concerning ramps that are too steep for some disabled students to navigate.
On her way back to her car last year, Perri collapsed. "The ramps are so steep that I just couldn't do them. I think it's more of an issue than students realize." Like the students moving out of the way to avoid the chairs in their path, it can be easy to ignore the signs that someone has been left out.
In 1992, the American with Disabilities Act (ADA) officially became law. The law promised to bring more inclusivity and accessibility to our society, including our schools. Accessibility can mean anything from automatic doors to not-too-steep ramps. For ramps to comply with the ADA, each ramp must have a ratio of 1:12. Every foot gained in height requires 12 feet in length. Many slopes around the campus have signs that plainly state, "walkway does not meet ADA standards." For physically disabled students, this sign usually means one thing, that they will need to go around.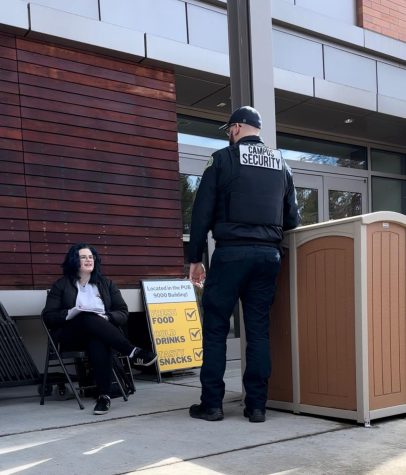 Another SCC student who joined the protest as it was happening, recognized that there are barriers in place that make it more difficult for those that are disabled to attend classes on campus. "I think it's a lot of unnecessary work that disabled people have to go through just to get an education," said Max Rivas. But students are not the only people on campus who see the barriers that are in place for disabled people.
"There are a lot of barriers that need to be addressed," said Eberth Arias, the program coordinator for the student accessibility services office at SCC. Part of the mission that the student accessibility office takes is to ensure that students succeed and that the campus is designed to include everyone. When new buildings are built on campus, Arias asks hard questions about the accessibility of the new construction.
However, the office does not work on making physical spaces more accessible, like arranging construction to make more ramps on campus ADA-compliant. Because of the lack of ADA-compliant ramps, some disabled people must create specific pathways to get to their classes. Arias says students "…should use their voice to bring attention to that," as well as other accessibility issues on campus.
SCC students and faculty both want to see a more accessible campus that lives up to the promise of welcoming everyone, regardless of their ability. "I enjoy the campus, how beautiful it's been. I think everyone should be able to enjoy it that way, too," said Arias.