Honors College Students Research Encore
Students presented their research for the students and staff in the quiet dining room
The "quiet" dining room at Shoreline Community College brimmed with activity this Wednesday as Honors College at Shoreline students presented their research to faculty and peers. The room was filled with colorful posters and smiling presenters ready to answer any pressing questions. Some students researched topics like augmented reality, bioplastics, and the effect of groundwater extraction on the sinking city of Jakarta. Each student had a deep personal connection to their work.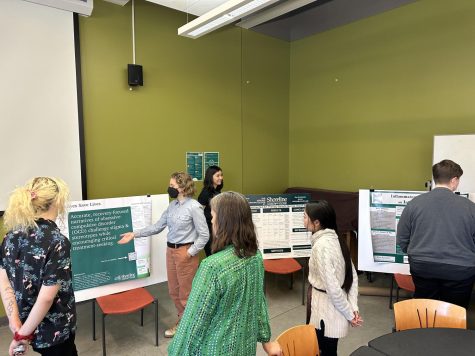 Gem Arbogast is a writer with obsessive-compulsive disorder (OCD). Contrary to popular belief, OCD is far more complex than having a clean room or an organized desk. Stereotypes about the condition inspired Arbogast to research where these stereotypes come from in literature, and which pieces of literature break through these oversimplified views and portray the disorder accurately.
Accurately portraying the disorder helped Arbogast to identify with them. "I'm always going to have to live with this, but I can still live a really meaningful life…my OCD is going to show up and make that hard and I am still going to do it anyway," said Arbogast.
Kalilla Soeweno researched the effect of extracting groundwater in Jakarta, Indonesia. According to her research, the city is sinking at a rate of 11 inches a year. To Soeweno, this is not just a research project; Indonesia is her home.
Soeweno's mother has a small nail shop in Jakarta that was flooded multiple times in the last few months because of the city's sinking. While researching her project, Soeweno contacted her friends and family back home to speak with them about the conditions in Jakarta. "Whenever I go through my research, I feel really heart-broken," said Soeweno.
The research presentations left a lasting impression on attendees, including Ignatius Too, an international student from Kenya. "I must join the program," said Too. Shoreline Community College Honors students showcased their research at the encore event of the research symposium at the University of Washington. Not only did they show the academic community their talents, passions and hard work, but they also inspired other students to do the same.