Letter From The Editor – Dec. 6, 2019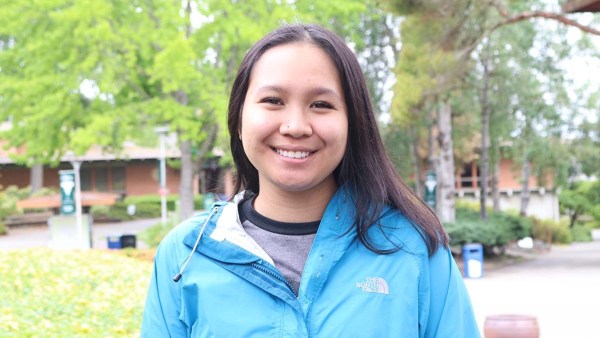 DEAR SCC,
Three years ago, I didn't think that I'd be at your doorstep.
My future after high school was unknown; riddled with countless choices — which is a nightmare for an indecisive person like me.  A community college just north of Seattle wasn't in the cards for me early on — until I saw a few things: A student newspaper and a communications program, with journalism at the bottom of the catalog.
Despite not knowing anything else about what could come next, I knew I wanted to help people. I hadn't realized I would gain a passion for reporting until my senior year of high school when I was hired on to my high school newspaper and yearbook. I had my first taste of what being "the media" felt like and how much responsibility a journalist carries in order to satisfy the search for truth.
It was a daunting feeling that I couldn't let go of, and maybe — just maybe — this newly-ignited passion for journalism could give me an avenue where I could help others in some way.
You were a wildcard, SCC. I had no idea what was going to happen. I had just two modest goals: keep to myself and graduate with a decent GPA. 
This community offered a whole new world for a wide-eyed, far-from-home teenager who wanted to make something of herself.
I've learned too many things to write about and there's no way that I can get into them while being succinct. Let's try to keep it short and sweet, as you and I take a trip down memory lane.
Keeping It Real
SCC provided the story and we got to chase it.
The Ebbtide attracted me like a moth to a flame. I wanted to nail my interview for the Arts & Entertainer editor position and if I didn't, I would keep working hard to gain the experience I needed to apply for another position.
I was nervous and excited to finally be in my first newsroom. This was my version of Christmas.
It was fall 2017, and the campus quietly bustled with back-to-school activities before the official welcome week began. I was mistakenly sent to the PUB when the neon-clad Associated Student Government guides wrongly assumed I was a lost international student.
I fumbled with the handle to Room 9101, cursing myself for not knowing basic human functions. The Ebbtide office was silent, save for the soft tapping of a keyboard belonging to adviser Patti Jones just around the corner. 
She had her arms folded against her chest as she gave me a mini-tour of the Ebbtide office, asking me questions about who I was, where I came from and my previous journalism experience. 
I wandered back and forth in the office, inspecting an eerie Frye Art Museum poster that depicted a pale woman with a disgustingly long tongue above a not-so-organized desk with a red lamp and heaps of notebooks, crinkled-up articles and books about AP style — this was Nellie Ferguson's desk, who I later learned was one of the best reporters on the team.
This office emanated journalistic hues and I could barely choke down the urge to scream in joy: This is where I wanted to be, and although I had only entered the field a year prior, I wanted to help my new campus community through honest reporting.
At the Ebbtide, success is conducting hard-to-get interviews, tackling a number of campus events and breaking news and honing in on the lives of specific students, staff and administration to shine a spotlight on them. We can't forget mention juggling homework, tests, off-campus or on-campus jobs and that pesky little thing called personal lives.
Without the Ebbtide, I would not have met the hard-working, ass-kicking and slightly-crazy student journalists and our two advisers, Jones and Vanessa McVay. Although I will no longer be with our campus's award-winning newspaper, I know SCC can continue to rely on these budding reporters to always keep it real.
An "Honorable" Mention
SCCalso provided a challenge for me in the form of the Honors College. If you didn't know this already, I love to take risks and the Honors program was definitely a leap of faith.
With the Ebbtide, several full-time jobs, financial issues and an unsteady personal life, the Honors College shouldn't have been an option. I joined in winter 2018 and on the outside, I kept to myself while also trying to keep an eye out for potential recruits for the newspaper or finish my stories. Internally, my brain was on edge: Instead of taking an easier load, I picked up two Honors classes, one normal course and three credits for the Ebbtide (CMST 245 for those who want to join!).
Funnily enough, I was accepted to the program after the first quarter. Again, I tried to lay low and just focus on writing and my grades, but my Honors Cohort was too interesting to ignore.
During my tenure as an Honors student, and eventually as the Honors Student Council President, I had heard through the grapevine that couches were generally not allowed. Furthermore the Lounge had an abundance of rolling chairs that were sometimes combined into a dangerous, make-shift "couch" abomination for the sake of comfort. As president, I couldn't allow students' safety to be put at risk with such mechanisms.
Obviously, as a reporter, I had to look deeper into this. After further research, I decided to make one major change: getting a couch.
The process was simple: I messaged a woman on Facebook, who was selling a plush looking sofa for around $70. I quickly paid and rounded up three eager Honors students: With two vehicles, safety ropes and a borrowed Seattle U flag (vehicles that have objects sticking out must have a flag attached to signal caution to other drivers), we drove to the seller's house and haphazardly stuffed the new couch into a truck that I've never driven before. Due to the couch's position, I could only see out of my driver's side mirror while my head twisted to the side.
It was a successful endeavor as the couch continues to sit there, loved by its many occupants in the Lounge.
Now, SCC, why did I ramble on about a couch that's significant to a very small population?
Through this slightly-rebellious act, I aimed to make my peers' lives just a little more comfortable. It's now available for students who may not get enough sleep or who have back problems and need something soft and relaxed or to provide space in a relatively small room, since nearly all of the chairs may be taken.
From my experience as an Honors student, you come to learn that the little things certainly make a change.
It Was An Experience
SCC… before I met you, in the interim period between being a high school graduate to a college freshman, I was alone.
Alone in the sense that my closest friends were following their dreams in the Bay Area and I was the bird leaving the flock, far away from everything I had grown comfortable with. Gone were the days when I could go to their houses and talk for hours or go to the drive-in movies in Concord or get late-night slurpees from 7-11.
I was chasing a dream that I had no idea about. I settled on the fact that I was alone and had to forge my own way, with only my shadow to keep me company.
The SCC community was a network that I didn't immediately connect to. But when I finally did, it lit up my entire world. I was no longer alone, but surrounded by student-journalists, incredibly intelligent honors students and a host of supportive teachers and mentors.
SCC's going through some hardships, like the budget crisis, the possibility of losing the Dental Hygiene Program and possibly putting administrative staff on the chopping block. 
SCC may have expensive parking passes and no promise of actual spaces for students who drop around $50 per quarter for better access on campus. 
SCC may also have a few inaccessible areas for students who are not physically able to reach them.
By no means is SCC a perfect institution. Few are. However, you are my first alma mater and a huge part of me learning how to be the best person I can be for not only myself, but for others — and I thank SCC for that..
It has been one hell of a ride, but everything comes to an end. I don't know what you will do in the future, SCC, but I do know your campus's community of dedicated students and staff from all walks of life will persevere. That's why we're here: We have a dream to chase.
Sincerely,
Azia Kelikoa'elakauaikekai Jaelyn Lualhati
Editor-in-Chief