Nestled in the 4000 building, the SCC Library is the beating heart of academic life on campus. More than a mere storage space, it houses a diverse treasure trove of book collections, vital sources of information, and essential materials available for academic borrowing. More than just a repository, it's a haven for SCC students, it is a bustling hub where assignments take shape and group studies come to life. The library is a central fixture in the academic journey of Shoreline Community College attendees.
Upon entering, students are greeted by a welcoming desk, the gateway to information. Meandering to the right and straight ahead, past the information sharing desk, a prominent printing spot reveals itself. This library exclusive, offering free printing services, was intended to be a boon for students — a convenience that has now turned into a source of frustration.
Challenges arise as SCC Library, the heart of academic pursuits, faces printing woes. Multiple grievances have surfaced about the sluggish performance of the printers, with some even reported to be out of order, necessitating maintenance. "It's not working", Jennie Nguyen, an international student from Vietnam, shared how her friend complained about these issues to her; and said it is slow.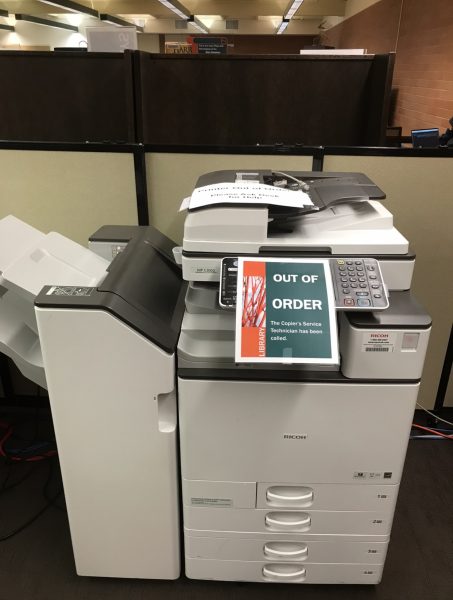 Kenny Zhang sheds light on another dimension of the problem, citing the prolonged duration for printing pictures in which 30 pictures took roughly minutes. The bottleneck, according to Zhang, lies in the printers' demand for document conversion to PDF before printing. He points out a specific constraint: the files can't be printed directly as Word documents.
Adding to the discourse, Bowen Coldwell highlights an additional concern. He notes the inconvenience posed by certain printers requiring the use of USB drives for file printing. Coldwell expresses a desire for a more user-friendly and universally compatible method, stating, "it would be nice if there's a more compatible way."
Regarding the history of the printer itself, Brien Dickey, who works for the Library and Media Department, shared with us that, "In the past, you could print with the computers out there. Because of the ransomware attack and because we haven't got the computer set up back to connecting with the server, we can't print from the computers out there. They have to go to the print stations and print them."
The printing process at the library was once seamless and effective, providing a great academic service to many students, yet this favorable scenario took a turn following the incident of a ransomware attack. No surprise that some newcomers were unaware of the existing printing problems.
However as of the present, the clarity of this concept remains elusive. Students can't do anything besides hope a solution emerges, allowing them to once again revel in the freedom of hassle-free printing.