Shuttle Dreams Come True
PICKUPS FOR E-LINE RIDERS
SCC is losing parking spaces to the new dorms, but it will soon be gaining expanded shuttle coverage.
Extended routes will support students who ride the Metro E-line along with students who park off campus.
Tentatively set to begin May 24, according to ASG President Yorin Anggari, certain shuttle routes will add new pick-ups at the southwest corner of 160th and Aurora, in between the King County Metro bus stop and Value Pet Clinic.
Previously, SCC students commuting by E-line would face an uphill hike after disembarking at the intersection of Aurora and 160th.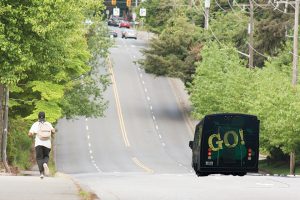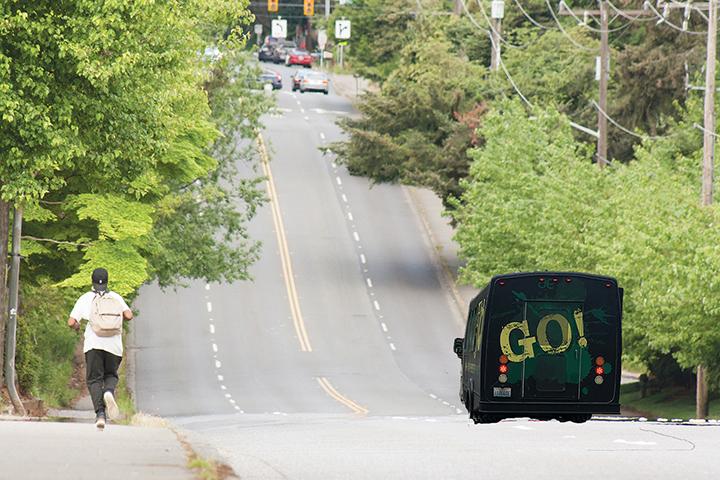 "Can you imagine walking up that hill in Seattle weather — rain and sometimes even worse … (which) I did everyday when I first started at (SCC)," said Nam Pham, ASG vice president and chair of the Sustainable Commuter Options Fee (SCOF) Committee. "Shuttle service for students who ride the bus was always a dream of mine, even before I became an officer," he continued.
Pham said that when he became vice president, he realized this shuttle extension project was in process, and so he and Anggari worked to bring it to completion.
"It is important to point out that the extension is the result of a longstanding effort by many students, especially the SCOF Committee," Anggari said. "Particularly Eberth Arias, last year's ASG sustainability officer, who worked with the Safety and Security Office which runs the shuttle."
The proposal to add the E-line pickups was first proposed in 2013, when the SCOF was approved by student vote to fund multiple service improvements to the campus such as bicycle racks, parking improvements, discounted ORCA cards and water bottle filling stations. The SCOF is $34 which is paid for by students when registering for classes.
Traditionally, shuttle service was not needed during summer quarter for students who drive because the campus is less crowded. But a survey at the end of spring quarter will evaluate ridership and help determine whether or not the shuttle service will continue to run during summer quarter.
The shuttle will continue to service students who drive to school and park on the property formerly owned by Sears, which was purchased in 2017 by Merlone Geier Partners' (MGP).
SCC "executed a new contract" with MGP, according to Stuart Trippel, SCC's senior executive director and CFO.
"Our current contract is in effect from Nov. 1, 2017, through Oct. 31, 2018," Trippel said.
SCC currently has three shuttles. The larger shuttle vehicle will not change from its current route, which usually takes five to eight minutes. The two smaller shuttles will add the Aurora pickups, so their slightly larger circles will take from seven to ten minutes.
Shoreline Place, the plaza encompassing the former Sears parking lot and the surrounding area, will have two SCC shuttle pickup sites, tentatively, as of May 24.
"It's not just a rumor," Anggari said. "It's happening."
---
By Leeliza Owenz,
Staff Writer
Photo by Nick Molsee