SCC Professor Juggles Work and Play
Smoke curled through the bar, the low light filtering through the haze. While long past the era of slavery, Virginia was still very much a tobacco state — a fact that couldn't have been more apparent at this particular tavern in the later half of 70s.
Future SCC Professor Robert Shields stood at the front of the room, the stage lights blazing in his eyes.
Across the room, a friend of Shields' held a set of clubs in his hands, their gently curved surfaces gleaming.
Shields doesn't remember the name of the bar; he couldn't tell you what the other acts were, or if the prize had been a trophy or a meal ticket.
On that insignificant night, in that insignificant bar, Shields and his partner won third place at a talent show — for juggling.
"Luckily we didn't throw the clubs over and knock over anyone's drink," Shields said.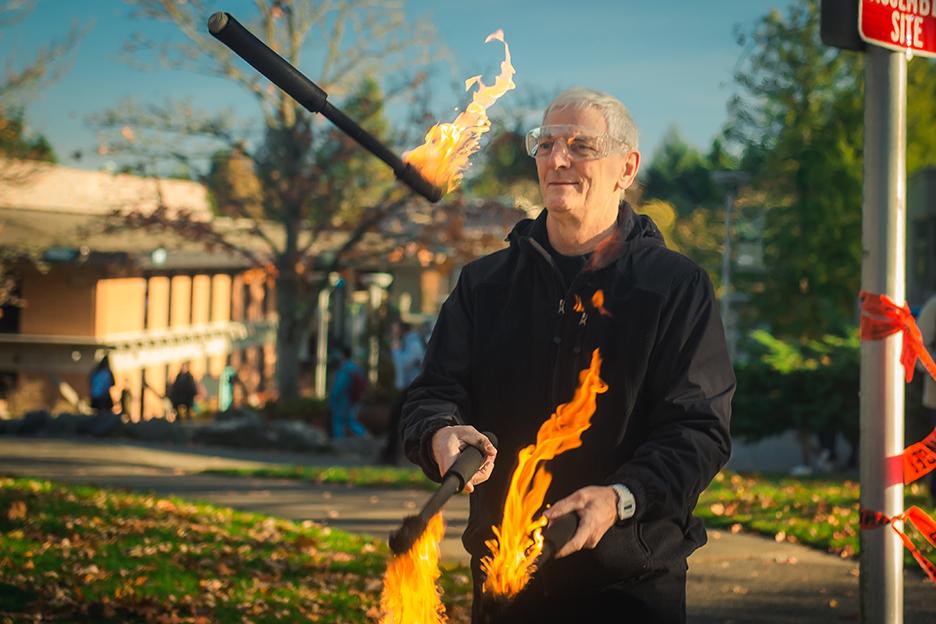 Act One
A computer science teacher by day and a circus aficionado by night, he's not your typical professor. Juggling has long been a hobby of his, whether he's stringing a slackline in his backyard or unicycling through San Francisco.
Growing up, circus didn't play a huge role in Shields' life. It was only after graduating from Virginia Tech with a Masters in Computer Science that he was first introduced to the world of juggling.
He landed at Bell Labs in New Jersey after earning his degree, which also happened to be the home of resident tech guru and amateur circus legend Claude Shannon.
Shields joined a small juggling club on the premises, and while Shannon wasn't a member, Shields recalled that Shannon would juggle in his office and ride a unicycle through the halls.
The attraction to the sport was immediate. Shields said that most intellectual activities came easily to him and it was refreshing to find an activity which required more than a passing interest to master.
This quickly graduated from a curiosity to a hobby.
Shields moved to San Francisco in 1980, and while his day job at Bank of America was not the most rewarding, he found ways to supplement his creative diet with a steady dose of circus shenanigans.
Every Sunday at Golden Gate Park, Shields joined other like-minded performers from all walks of life as they converged in one area to practice their skills.
Among other activities, riding unusually tall unicycles or "giraffes" was a common practice. In the park, it took climbing a tree to mount a taller one.
It was around this time that Shields received his first and only major injury as a direct result of his circus aspirations. While consulting at UC San Francisco, he took a gymnastics class to supplement the juggling. One fractured foot later, Shields admitted a career in gymnastics was not in the cards — but the dream remained.
To Shields, the logical next step for an aspiring professional was the Pickle Family Circus, a relatively small operation and a distant cousin of Cirque du Soleil. It would be a chance to see what performing in a circus would be like and to test his metal against other artists.
What surprised him was the extent of the competition. Out of maybe a hundred hopefuls, "every single one of them was a better juggler than me," Shields said.
Intermission
With the idea of performing in a professional circus put on hold, Shields' teaching career began at the University of Maryland.
It took an overseas expedition to Japan for him to realize his passion for education. In 1982, he spent most of his time teaching computer science at the Kadena Airbase in Okinawa.
He says it was hard work. Most of the time, students would come to class barely awake. In some cases, they would get deployed before the term ended, cutting their eight-week class abruptly short.
Despite the challenge of a less-than-ideal class setting, he found the work incredibly rewarding and became infatuated by the hands-on aspect of teaching.
While without the means to practice many of his circus skills, Shields found other ways to spend his time.
Scuba diving and martial arts became regular pastimes, and the challenge of the Japanese language provided him with hours of relatively successful memorization. "I probably learned almost enough Kanji, which is the Chinese characters, to flunk Kindergarten," Shields said .
Act Two
Soon after his contract expired, Shields and his future wife Lydia moved to Seattle.
It was there that they got married and had their two children, while Shields studied at the UW Foster School of Business for his Ph.D in information management systems.
Circus began to factor in his life once again. Whether it meant juggling or twirling plates, Shields relished having the time to practice.
To his disappointment, neither of his kids took to circus in quite the same way he did. "When my kids are feeling generous they'll refer to me as 'eccentric,'" Shields said.
After a yearlong sabbatical back to Japan, Shields settled into the role of a teacher. Now he spends his time alternating between community colleges as well as teaching occasional classes at the UW.
It's been several years since he last taught circus at SCC, and he's excited to be back.
Prospective students can expect juggling, slacklining, unicycling and more. And who knows — maybe someday they too may win third place at a talent show in a smoky bar in Virginia.