The second floor of the PUB was transformed into a science fair. Some colorful presentation boards were standing on tables, and some students were enthusiastically presenting their projects to the visitors.
These students were participating in TechEXPO 2017.
According to Yorin Anggari, the ASG Communications Officer, TechEXPO was started last year by the previous Student Technology Affairs Officer.
"The purpose (of this event) is to provide an event to showcase different projects and initiatives by students," Anggari said.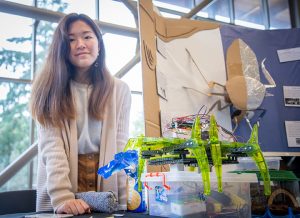 A Science Club member presents the "Nope Bot" (Photo by Martin Musialczyk)
One of the exhibitors was the SCC Science Club. They presented their project "The Nope Bot" which was a robot imitating the movements of a cockroach.
"This project is a combination of biology and engineering," said Annabel Li, the representative of Science Club.
According to Li, the robot took two nights for the coding process and two hours for the assembling process.
"We want to create a robot that can detect earthquake or accidents, and search for survivors in the rubble," Li said. "The robot has a vibration sensor on the tail end, so instead of detecting air vibrations, it picks up vibrations on the ground and locate the buried victims."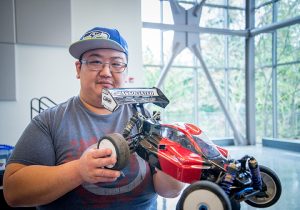 Jeremy Kim and one of his RC cars (Photo by Martin Musialczyk)
Another exhibitor was Jeremy Kim, an audio engineering student. Being a remote control car enthusiast, he decided to showcase his RC cars in the expo.
"Not a lot of people know that RC racing exists," Kim said. "I want to show that there is science behind the assembling process of these cars. Every (part) of it (is) important — the shock oils, the spring and also the tire thread."
According to Kim, his fastest RC car can get up to 70 miles per hour.
"It's still far from the fastest RC car in the world (which) can reach 120 miles per hour!" Kim said, smiling.
-Adelia Sindunata