Food for Fright
LOCAL LEGENDS AND HALLOWED HAUNTINGS
Welcome to the spookiest time of year.
With the leaves turning and the weather negating most non-heated types of outdoor fun, the Ebbtide wanted to open up a box of graham crackers and grab our pointed sticks. We invite you to come sit with us around the campfire. It's ghost story time.
Now, you probably all know about the end of musical legend Kurt Cobain's career, a "suicide" in the greenhouse of his residence on Lake Washington Boulevard over 20 years ago.
For you Sasquatch lovers, sorry: too obvious.
Most of us are at least vaguely familiar with the mystery surrounding the fate of D.B. Cooper, who leapt from a plane into the Northwestern skies one night in 1971 after ransoming $200,000 and a set of parachutes from Seattle authorities.
We thought our readership would want deeper cuts to pair with their All Hallows' Eve.
Here are some local curiosities, ranging from the somewhat strange to the insanely insidious.
Reader beware!
Giant Palouse Earthworm
Okay, let's start off with something ultimately cute: the giant Palouse earthworm. These big, slimy critters can burrow down to 15 feet beneath the ground and reportedly grow to three feet long, although experts say that one foot is probably closer to their true maximum length.
They are translucent or white, and are rumored to faintly smell of lily and even spit (Yes. A spitting worm). Despite this, they seem to possess no significant magical properties.
You won't find these while studying at SCC, so don't fret. This species of earthworm is found in the easternmost parts of Washington that share a border with Idaho. But if your studies take you to Washington State University, watch your step: they have been known to turn up in Pullman.
First discovered in Washington in 1897, they were thought to have flourished in abundance but since have been sighted only rarely.
They faded into history and became a zoological wonder, the stuff of legend.
Now comes the spooky part. According to the International Union for Conservation of Nature's (IUCN) Red List of Threatened Species, their status was listed as endangered as far back as 1983, but was shifted to the less threatened category of vulnerable in 1996. NPR reports that the worms hadn't been seen between 1987 and 2005. How was this possible?
The answer is the real scary story here. According to the IUCN report, "The species is associated with one type of habitat that is highly restricted and deteriorating in quality due to agricultural clearance, pesticide pollution, suburban development and invasive species."
Their habitat got annihilated and became so diminished that they surprisingly became un-endangered.
So, the reason for changing the species' designation: human encroachment.
Boo.
Butterworth Building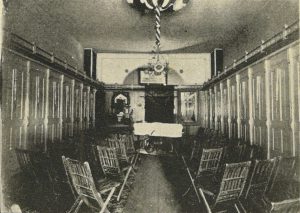 The Butterworth Building in downtown Seattle currently houses Kells Irish Pub, but was previously the site of the Butterworth & Sons Mortuary.
This mortuary brought the undertaking scene to a whole new level. It was the first building of its kind in Seattle, meant to be an all-purpose destination stop for the deceased. It was as convenient as a trip to Target.
Not only was the mortuarium groundbreaking, the patriarch of the family, Edgar Ray Butterworth, was a member of several fraternal societies in Seattle, including the Independent Order of Odd Fellows and the Knights of Pythias.
Kells Irish Pub is located in the spot where the crematorium and embalming room operated.
It is said to be haunted by spirits of the hundreds of people who were embalmed or cremated in the mortuary during the early 1900s. There have been reported sightings of ghost-like figures and items have moved or been broken as if by an unseen hand.
If you dare, stick around until late at night to maybe catch a glimpse of a long-dead inhabitants or perhaps hear the murmurings of tortured souls.
Haunted Vending Machine
Seattle is home to many curious landmarks, some of which are world-famous. But some are more niche.
For over twenty years, you could find a vintage Coca-Cola machine that nobody has seen refilled located in Capitol Hill just out front of the Broadway Locksmith. Its six buttons have "Mystery" written in all capital letters which spurt out random cans of soda, not all of which are Coke products. Despite this, the Coca-Cola Company's official Twitter account used this haunting for publicity in 2014.
Much like the rest of the city's amenities, its prices "mysteriously" rose, from 75 cents to $1 in January of this year.
Recently, the machine has gone through the ringer. The number of words scribbled on it in graffiti has multiplied. According to an Atlas Obscura article from May, "Coins slots have been vandalized, and the machine doesn't seem to catch all coins properly."
Then, this summer, June 29 to be exact, it vanished one night. A note lay in its vacant spot, reading: "Went for a walk."
While the vandalism likely explains its disappearance, as of now the vending machine has yet to return and is listed as "permanently closed" on Google.
Despite this, it remains active on Facebook; now that's chilling.
Starvington Heights
Linda Hazzard was a self-proclaimed doctor who used unproven methods to "cure" patients of various ailments from 1900-1912. In effect, she charged people and then slowly starved them to death on a steady diet of broth. Consequently, "Dr." Hazzard and her husband took control of patients assets while they were under the doctor's care and amassed a sizable fortune as each one died.
Hazzard first "practiced" in Seattle and then moved to a plot of land on the Olympic Peninsula where a sanitarium was built to house and treat patients. This sanitarium earned the nickname "Starvington Heights" once the truth about the horrors that occurred there became known.
Many of Hazzard's victims were taken to the Butterworth & Sons Mortuary after death, which may be why so much supernatural activity allegedly occurs there to this day. Among those who died were Daisey Maud Haglund, mother of the future Ivar's Chowder founder Ivar Haglund and Claire Williamson, a British heiress.
Coincidence or creepy: When we tried to look online for Olalla, WA (where Hazzard's sanitarium was built on the Olympic Peninsula) the browser started crashing repeatedly for no apparent reason.