At Home Abroad: Coping with Homesickness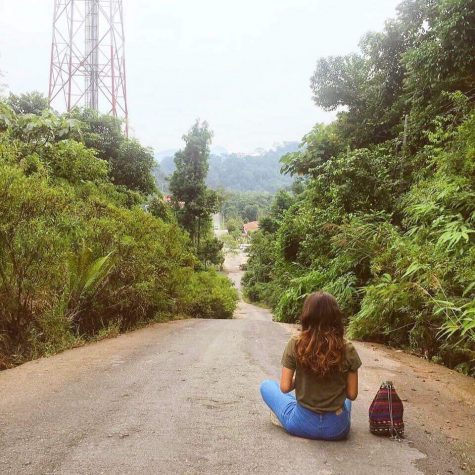 "At Home Abroad" is a brand-new column where staff writer Larissa Odabai shares perspective and advice from an international viewpoint.
Whether you're an international student or not, almost everyone has experienced homesickness at some point in their life — and I think you'd agree with me if I said it sucks.
But if you're a chronic sufferer, I have some good news: You're not alone.
Just last week, I considered traveling back home to Vienna, Austria, regardless of the fact that I wouldn't be able to return to the states for… well, who knows how long the borders will be closed?
Then I sat down and started to really think about the term "homesickness" itself. Why isn't it called homelonging, anyway? After all, that's what it feels like.
This "homelonging" is more than just missing friends and family. It's the frog in your throat and the tears in your eyes. It's the nostalgic memories of your room, your bed and even the cup prints on your nightstand.
It's yearning for the food and smells of your kitchen and knowing the city like the back of your hand. Thus, homesickness is not a "sickness" at all — but rather the feeling of being painfully far away from familiarity and safety.
To help soothe the longing, I made a list of everything that makes Vienna my home.
Comfort Food
You may think Seattleites are coffee addicts, but in Vienna, coffee is pretty much considered an art.
With this in mind, I searched for Viennese coffee shops in the area (I was willing to drive as far as necessary for a slice of home) and discovered that it was only a couple minutes' drive to Kaffeehaus de Châtillon in Lynnwood where I could get my favorite Viennese cake and coffee.
Surrounded by Nostalgia
I also collected some furniture similar to that of my parents' house back home.
First, I bought a snake plant and Persian rug from Home Depot because they made my room look more like my parents' living room.
Then I visited Bellevue's Oskoo Persian & Mediterranean Market, where I admittedly went a little crazy buying practically everything I ate while growing up around Persian cuisine. Along with my favorite brand of black tea, I purchased several herbs and spices and even some noon sangak (a Persian flatbread).
Interesting fact: In Farsi, "sangak" means "little stone" — which fits perfectly considering this specific flatbread is baked in an oven atop a bed of small river stones.
Familiar Entertainment
One night, I made some popcorn and restarted the "Harry Potter" series, which I've enjoyed countless times in the past with my family and friends.
We've watched those films so many times that I've turned into one of those annoying fans who recites each line of dialogue along with the characters.
So, the next time you feel nostalgia creeping up on you, try creating a list of familiarities. That way, you can take your memories with you wherever you go.
Since I'm still locking down due to the COVID-19 pandemic, I based these ideas on current remote conditions. Under normal circumstances, I find it helpful to venture out and remind yourself of what it was that originally brought you to where you are.
While the steps I took may be small, they've had a big impact on how I cope with homelonging. Today, I can walk into my bedroom and sigh — one of those relieved sighs — knowing all that was "small" was the amount of effort I'd put into recreating my home.