Halloween spirit spooked Shoreline Community College with four rounds of voracious events. Rumors and wanted posters circulated around the campus, warning that a murderer emerged amidst the population of students.
On the evening of October 26th, a crime scene appeared outside the 9000 building, with SCC mascot Dolphie as the victim. The "Who Killed Dolphie" scavenger hunt began with elevator crossword puzzles, pumpkin bowling, and a pool of plastic body parts.
Students hunted for clues that would unmask the killer among us. Participant Megavelisia Siaw grumbled, "the typos and grammar errors [in the clues] are confusing," but admitted to being a fan of murder mystery games, "I wouldn't mind if we have it again, maybe even next quarter!"
Dolphie's murderer went uncaught until the 27th of October, during SCC's Halloween Party located in the PUB Main Dining Room at 6:00PM.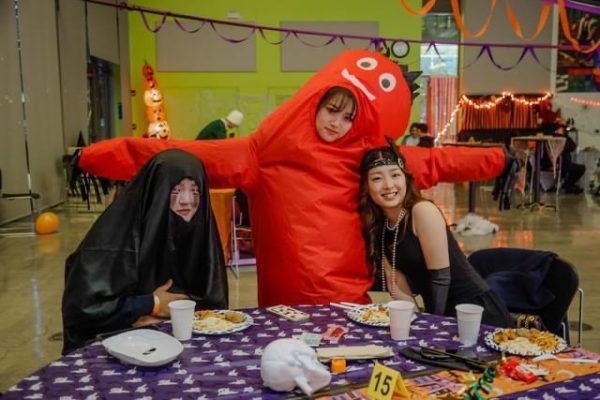 Coral Leon was amazed by the decorations, remarking that it "gets you in the mood, plus I have to say entering the halloween costume contest was a lot of fun because I got a polaroid." The polaroids are used to record the participants in the costume contest. A pair of inflatable men, cartoon characters, Hogwarts robes and a variety of creative costumes were judged on the runway. Winners were decided by the audience.
Not far from the busy chatter, groups signed up for time-slots to trek through the chilly forest path that leads to the 800 Music Building. Light and sound diminished. Students were scaring one another, to distract from the eerie building that awaited them.
A friendly reaper guarding the entrance provided the last cold comfort a student felt before entering the bloody hallways. Screams and a lone cry could be heard. According to Leon, "the actors were a chef's kiss."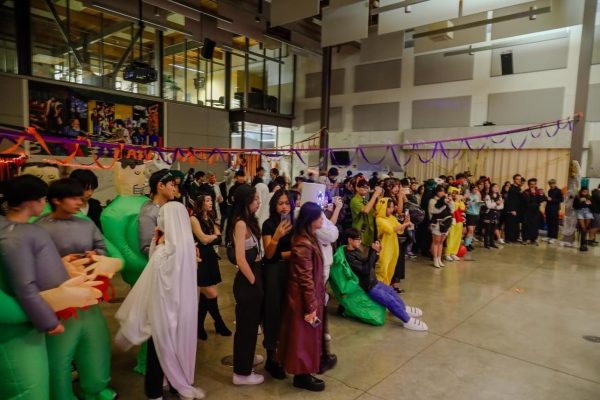 Another student, Chris Van Hoosier, also applauds the efforts from the music department, but wondered, "maybe if they build on it more next year, make it scarier and hire… more [actors]… that would make the experience even better."
Once the tricks were over, SCC provided post-traumatic therapy with craft stations on the 31st of October. Students circled around for free treats, hot cocoa, and apple cider. They tested their luck on bingo sessions, in the hopes that they'd win a prize or gift card. Elizabeth Harper would have loved it if there were little party snacks that she could munch on, like "Some chips, popcorn, and more beverages." Leon adds onto this comment by suggesting "If they could warm the food some way."
Nevertheless, Shoreline Community College's spooky season had piqued students' interests. Orpheus K. Bradley enjoyed "the performances,"because they're something, "everyone can… enjoy."
Comparing this year's party to the one he attended last year, "the party was better this year", Bradley said.