MASKS, EMOTION AND COUNTRY POP WITH ZERO CORN
Country music is still alive because it is finally embracing modernity.
For those people who don't necessarily find the ascendency of country music to be an automatic boon, I understand.
But before you jump to a conclusion, first let me explain a new artist named Orville Peck.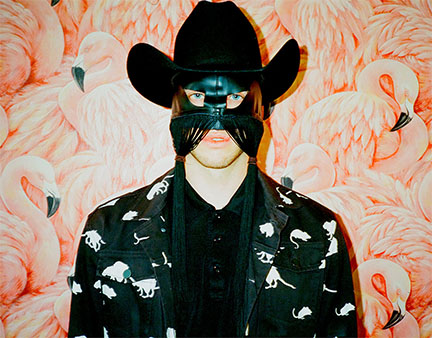 Substitute the horse for a motorcycle and you have a full-fledged indie rocker.
His debut album "Pony" came out March 22 on the Seattle label Sub Pop. A gay cowboy crooner from parts unknown (his true identity remains a mystery), Peck has a voice like Miranda Lambert and a set of tattoos like Lil Peep (R.I.P.).
This piece of rawhide recently played in Seattle and is currently touring around the greater Northwest donning his leather mask complete with a hanging veil of frills.
Putting on a Conway Twitty-vibe, he has taken to covering the song "Fancy" (made famous by Reba McEntire) at live shows.
It's refreshing to hear songs that sound so classic include a twist on the tired subject of "I'm a sad guy and my girl did me wrong."
Songs
Twelve tracks populate the album, and for the most part they run the gamut from fast ballad to slow ballad. The songs move by slowly but the album doesn't. He exudes the soft resonance of Lana Del Rey.
"Pony" opens up, not by knocking you off your feet in terms of packing punch, but by lulling you into a sense of foreboding with a building melody making you wonder what's next. His voice lifts just so to portray a deep loss and falls in such a peculiar way that makes you wonder if he understands how to stay on key.
These songs are largely indie rock masquerading as country. Oftentimes it sounds like the Vancouver rock outfit Japandroids, but is definitely dressed up in the attire of old-school country Western stuff.
In "Dead of Night," the opening track, he says, "See the boys as they walk on by / It's enough to make a young man…" and ends with a banjo riff that sets up the rest of the journey.
The best song is track three, "Turn to Hate," where Peck turns the screws on the rock elements and finally allows a fast-paced jaunt to unfurl from the sprawl.
"Buffalo Run" has the slow-building tension of The Velvet Underground's "Heroin" — a high standard that it almost lives up to. It swaps the dirty needles for open pastures and stampeding herds all while talking about the dangers of selfishness.
Track five, "Kansas (Remembers Me Now)," is where he does his best Bing Crosby impression. The song uses sonic distortion like a guitar solo in the last third, phasing in and out with its audio clarity.
One of the most surprising successes is "Big Sky." It feels like it might not work, but once the second verse kicks in, the guitar keeps you anchored and you can't help but to look up.