Last Night of Normal: Students Bring Film to Fruition
We've all answered those cheesy ice-breaker questions: "If you could have dinner with anyone in the world, who would it be?" or "What's one thing you could never live without?" Certainly most people have encountered the classic, "If you found out you only had 24 hours to live, what would you do?"
Most people laugh at the question and say they'd do something they've never done before. Some people say they'd just go on like there's no problem.
In the short film "Last Night of Normal," produced and directed by Film Production II students Ericka Berg and Katanya Warwick, respectively, the story follows the 24 hours after main character Molly is diagnosed with terminal cancer. The audience watches as she experiences her last night of "normal."
The story highlights the struggle of finding oneself and the trials of making sense out of chaos.
"It's about maintaining the idea of hope, but also preparing. We have to face our own impermanence," Warwick said. "We don't want it to be a cancer story; it can be a coming of age or a rite of passage."
It is no coincidence, then, when Molly struggles with her mother — overbearing but deeply caring, and having to discover her own meaning and purpose in the wake of Molly's life-changing diagnosis.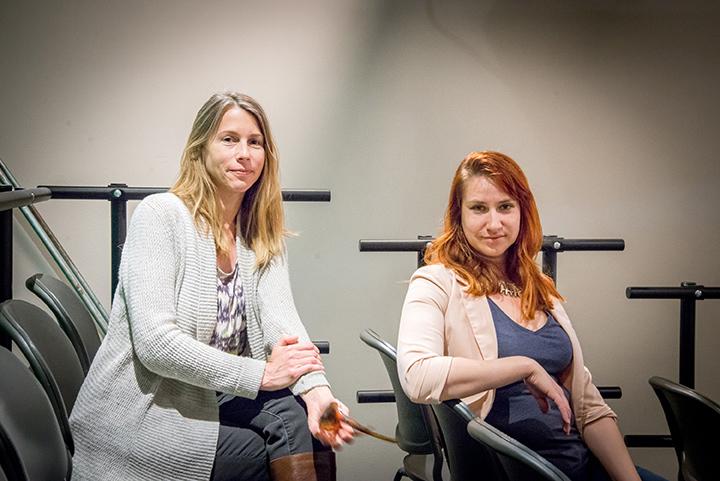 Producer Ericka Berg (left) and Director Katanya Warwick (right) in the Black Box Theater (Photo by Martin Musialczyk)
Warwick hopes to emphasize Molly's transformation from youth to adulthood in her sudden need to grapple with responsibility and the sobering nature of her condition.
"(The story) doesn't offer any solutions," she said. "There's a sense of healing … a catharsis element to it."
A secondary highlight of the film is its dedication to the female side of the cancer story.
"It's kind of an homage to the women I grew up with," screenwriter Kyle Purkhiser said. "I grew up around strong women, so (writing a stronger female lead) wasn't as hard for me as some people."
While the genre of the film was voted on by the film production students, the film itself is owned separately by the producers and will be produced outside of SCC — actors, equipment and manpower will all be working exclusively for the film.
Filming for the short will take place all over the Seattle and Shoreline region on June 9-11. The film will be entirely post-produced and edited outside of the class over the summer, when it will eventually be cut into its final 15-minute form.
Budgeted entirely off student contributions and donations, "Last Night of Normal" raised over $5,000 with contributions having been made through Seed&Spark, a crowdsourcing platform purely meant for film and TV. A trailer for the short film can be found there as well, at seedandspark.com/fund/last-night-of-normal.
Most of their budget, according to Warwick, goes to their hiring of professional actors and their high-end equipment.
-Charlie Easton