Ebbtide Eats: Thai Bistro
Everyone else at Thai Bistro the night I went — a chilly October evening at approximately 7:30 p.m. — had the right idea.
Just a six minute drive north of SCC, this haven should be any Thai food-lover's new go-to.
Throughout my visit, there was a decent number of patrons that kept the place buzzing, which added a dose of nightlife to Aurora's otherwise-nondescript Gateway Plaza.
Tucked neatly around the corner behind Starbucks, walking inside the secluded Thai Bistro is like walking into a vacation.
The restaurant's walls are donned with painted murals and green and red lamps above the seats. Add that to its tropical-looking ceiling fans and a palace-like structure bathed in purple lighting in the middle of the room, and it would be hard to deny that Thai Bistro has a firm handle on ambience.
Not long after taking my seat in one of their many booths, I realized they have one of the best lists of cocktails I have ever encountered in a traditional Thai restaurant. With each choice looking tantalizing, I opted for the "Thai Me Up" ($10) — a drink whose description exceeded all expectations: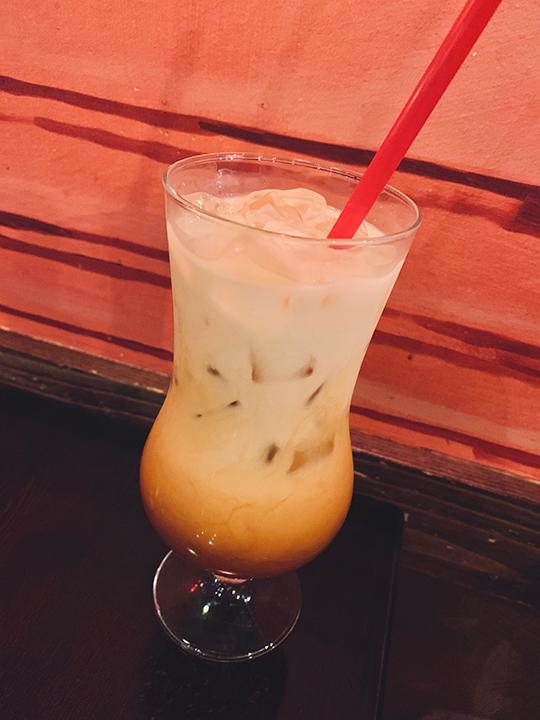 "Tuaca, Frangelico with home brewed Thai Iced Tea."
The alcohol was subtle, giving it the same delicious effect as any regular version of the beverage — thus making it an ideal choice for 21-and-up patrons who are always quick to order standard Thai Iced Teas (the establishment also offers classic beverages like Lemon Drops for those who enjoy cocktail staples).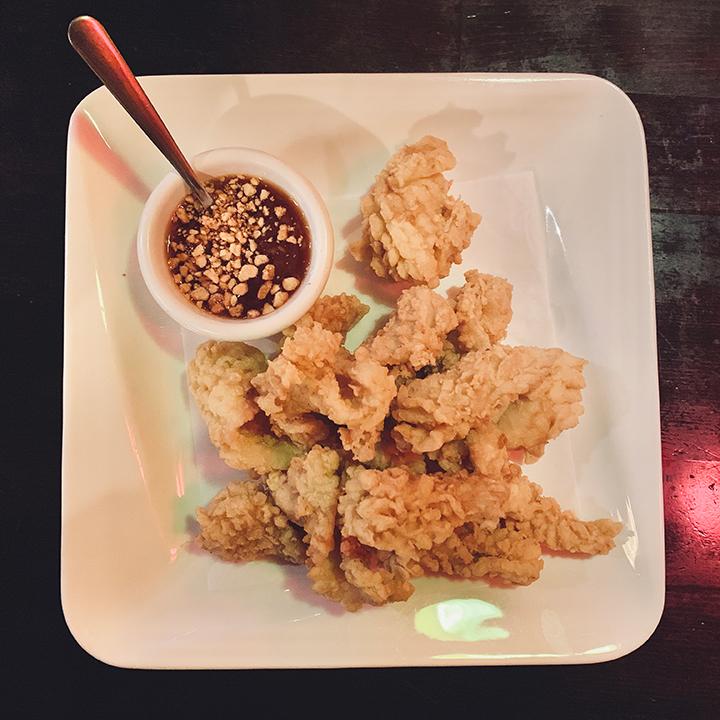 Next, the calamari ($10.95) provided a perfect appetizer. Lightly fried with sweet chili sauce on the side, these golden pieces were approximately the size of chicken tenders, making for a sufficient portion.
The crispy, fried exterior decently covered each piece, making it a delectable lighter dish for those looking for something less than a main course.
Tip: Go after dark. This is when the restaurant's funky decor has a chance to shine with a nightlife energy which — although the location is starkly local — is efficient enough to make you feel like you're on an outing.
Most satisfying, however, was the entree: The Pad Thai with fried tofu ($11.95) was delicious in every way.
Picture generously saucy and sweet noodles topped with a delicious amount of crushed peanuts sprinkled across the dish. Embedded throughout the noodles were several large chunks of fried tofu that were perfectly chewy on the outside and soft on the inside.
I'm indifferent toward bean sprouts, but when the garnish was mixed in, the shredded carrots provided a better crunch than I can recall experiencing at competing restaurants.
The establishment features a polite wait staff who are as friendly as they are efficient.
And the upsides don't end with the food: Seeing a show at Darrell's Tavern? Thai Bistro provides a perfect pre-func within walking distance. Planning to go ice skating at the nearby Highland Ice Arena this winter? Here is the perfect restaurant to warm up at afterwards.
Even if you're just in the neighborhood to deposit a check at BECU, you'll find yourself wanting to combine the trip with a visit to Thai Bistro — an irresistible spot for a quick lunch or long dinner. Try it today!