SCC TACKLES PETER PAN ORIGIN STORY
Have you ever wondered how Peter Pan got his name?
In this Tony-winning play, you'll be able to witness the poignant story that precedes the popular adventures.
"Peter and the Starcatcher" began as a series of two best-selling novels by Dave Barry and Ridley Pearson, and it was penned for the stage by Rick Elice before appearing on Broadway in 2012.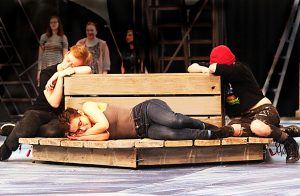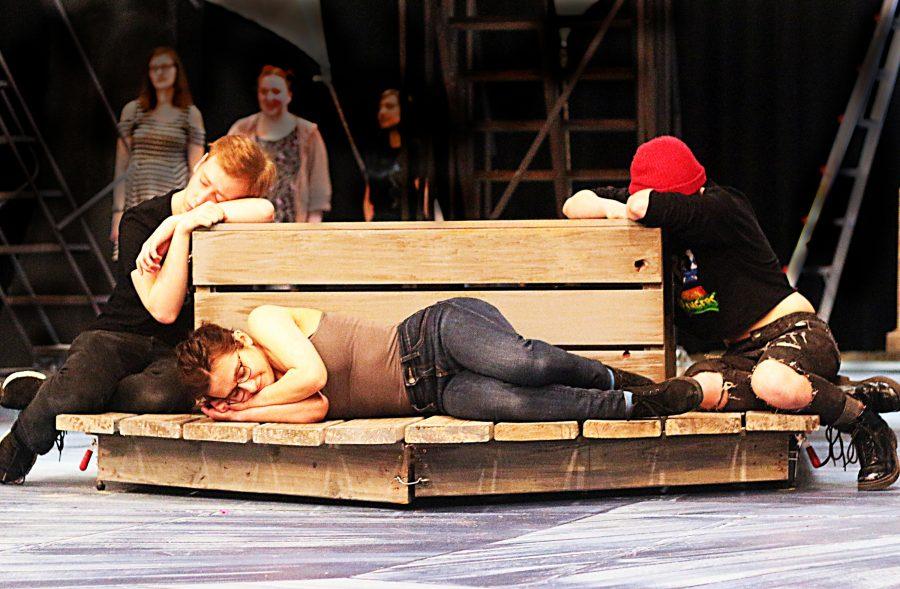 On Nov. 30, it premieres at SCC — and according to the cast and crew, it's shaping up to be a hit. In their various accounts of the show, a single word shines through more often than any other used to describe the production: "fun."
Peter Pan, known simply as "Boy" at the beginning of the play due to his orphaned upbringing, has a twist of fate when he meets fellow adventurer Molly Aster.
Molly is on a quest of her own to prevent a sacred treasure trunk from falling into the hands of ill-intentioned Captain Black Stache, the play's pirate antagonist.
A mystical material known as "starstuff" is what makes the trunk so sought-after, and it's up to an alliance of people known as "starcatchers" to protect it.
Along the way, Peter and Molly encounter a handful of colorful characters, and their camaraderie develops into a metaphor for life's most important values.
In SCC's version, Dan Davis will be playing the role of Peter.
"It entails a transformation; a discovery of family (and) friends," Davis says.
An Ingraham High School graduate, Davis is pursuing a theater degree in his first year at SCC. "Starcatcher" is not only Davis's first show at the college, but his second show of all time.
"It's intense," Davis says, noting the high-energy pressure that comes with being at the show's center. "But it also means that I get a lot of support from everyone else, which is super great."
In the face of the challenge, Davis is looking forward to the premiere. "I'm pretty scared, but it'll be great," he says.
Despite the play's handful of musical interludes, Davis says it's not really a musical and notes that Peter does not have a large vocal role.
"I don't think I'm on stage during any of (the songs)." Davis says. The exception to this, he says, occurs during a musical interlude where he is situated on a large set piece. "I'm being wheeled across the stage, so I don't sing during that one."
Stage director Anita Proudfoot offers a theory about the purpose behind these fleeting songs: when used sparingly, she says they act as an effective tactic to help pinpoint certain emotions when a given scene may need them.
Proudfoot has assisted in the promotion and poster design of SCC productions for several years, which provides her a first-hand look at the evolution of each show. "It's always an amazing process," she says.
Davis describes how "Starcatcher" director and SCC acting professor Bryar Golden often shifts set pieces around, leading to frequent variations in the play's structure. Davis admires this, explaining that these efforts exist to guide them towards a gratifying end result.
"She's an excellent director," Davis says of Golden.
Golden has enjoyed a fruitful career in New York, and she remains grateful for the opportunities that the Seattle acting scene provides young actors.
Wanting to introduce "something a little magical" into the audience's lives, Golden selected the play in response to the hectic state of affairs in our current world.
Golden points out the simultaneous "difference and sameness" that exists in orphan Peter's friendship with upper-class British and educated Molly. She says the relationship brings out the best in each of them and promotes the idea of reaching out to those who are different from us.
"We are human beings — that's it." Golden says. "There is no race, there's no religion. We are human beings, and that's got to be the first step in our understanding of each other."
Golden acknowledges the togetherness that exists both inside and outside of the play. "I thought it would be something really wonderful for the students," she says of the teamwork the production encourages.
Golden explains that the heart of the play is about love, home, family and the inevitable goodbyes that come with growing up.
In terms of execution, the cast is approaching it in "story theatre" fashion, meaning multiple roles will be played by single actors and aided with moments of narration.
In this case, it's up to the actors to create doors, walls and different sounds. Most of them play at least three characters in addition to their primary roles.
Due to the production's gymnastic nature, Golden feels grateful for the cast's willingness to brave the hustle. "It's a real ensemble piece," she says. "They're an amazing group, and they've worked so hard."
Isabel Zyla plays Ted, one of Peter's orphan pals. Theater-goers may recognize her from previous SCC productions including "The Game's Afoot" and "The Shoreline Shorts." Zyla is jumping back into acting after a year-long hiatus to focus on writing.
"This is a very tough show, but I'm really excited," she says.
Clark Roberts is in his second year of studying film, directing and acting at SCC. Peter Pan is one of his favorite fairy tales, so he decided to audition on a whim — and made the cut.
Roberts plays Mister Grempkin, the hostile owner of the orphanage where Peter lives, along with Mack, an incompetent right-hand man (who, in the words of Roberts, "doesn't know port from starboard").
"Grempkin is so completely opposite from who I am naturally," he says. "It's really interesting to be such a heartless character."
Roberts, however, admits that his personal favorite character is Black Stache.
Black Stache, the relentless pirate intent on stealing the precious "starstuff," is portrayed by Noah Bruckshen, theater aficionado and co-founder of SCC's Comedy Club.
Bruckshen says that Black Stache is one of his dream roles. "I've always wanted to play a villain … so it's such a fun part," he says.
Bruckshen emphasizes the sheer scale and demand of the show. But even while being one of the most difficult productions he's ever been a part of, he thinks it's all worthwhile. "It's definitely rewarding, because the play is so good," he says.
Golden hopes to take the audience on an adventure. So, join your fellow shipmates and head to the SCC Theater on Nov. 30 — "Starcatcher" sets sail at 7:00 p.m.
Additional ticket prices and showtimes can be found on the A&E Calendar.