A Local Dining Excursion
4 Authentic Restaurants In and Around Shoreline
Do you enjoy good food? If so, you don't need to go far!
Ever since I moved to Washington, I've been searching for the best places to satisfy my appetite; and so far, four Shoreline-area restaurants have made it to the top of my list.
Finding the right spot can sometimes be a scavenger hunt, so my approach is always the same: 1) Make a list of nearby restaurants, 2) look for reviews and other hints to point me in the right direction and 3) go eat!
Let's start with the guest of honor at every great movie date: Pizza.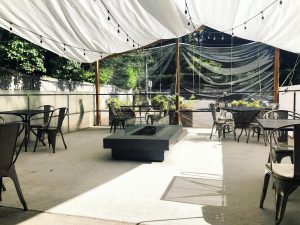 I've tried pizza in countless cities, including its hometown of Naples, Italy, where the meal started its journey in the late 18th century. So as you may have guessed, I'm serious about my pizza expectations. To me, it's not only a dish, but also a lifestyle shared around the globe.
When I finally found *the* pizza place, I was not disappointed. Remember the steps I take when looking for restaurants? Well, this time all I had to do was follow my nose. The aroma of the restaurant's wood-fired oven waved to me from across the street as I was getting an oil change for my car.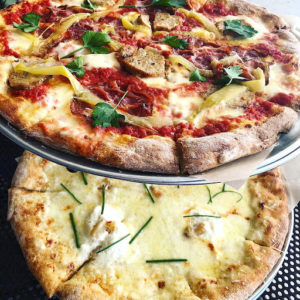 I handed my keys to the mechanics and followed the hint straight to The Local 104.
The staff was extremely friendly and immediately welcomed me with a smile. Soon, I was sitting out on the restaurant's patio — which adhered to all proper social distancing protocol. With the smell of roasted garlic, basil and pizza crust still obscuring my mind, I was having a hard time deciding what to order. It didn't help that every single dish on the menu sounded like something worth trying.
I finally decided on the Walter Pizza and The Tony Meatballs and let me tell you, every bite was an homage to my memory of Naples. The crust on each pizza had the perfect crunch to it, the cheese was just as melted as it should be and both the tomato and cream sauces were spot on. Try it out and thank me later!
2. Sushi Moto
Address: 22618 Pacific Highway 99, Edmonds, WA 98026
Hours: 11:30 a.m.-2 p.m. / 5-9:30 p.m. Mon-Fri (closed Tue), 12-9:30 p.m. Sat-Sun
Reservations: (425) 673-5477
When I look for food, I look for tradition — and Sushi Moto is filled with it. Opened in 2000, this family business offers a scrumptious Japanese dining experience.
Sushi Moto exudes travel vibes. Its covered windows ensure that there's no noise, no stress and no street. Step away from your city life: Step into Moto.
The music makes me think of Studio Ghibli movies, and the decorations and flavors help me to forget that just a minute ago I was driving on Aurora. Instead, I feel like I've just stepped off a plane in Japan and gone out to eat.
At Sushi Moto, the staff is kind and the service is fast. The seats, which are secluded by wood barriers, provide a nice level of privacy. If you'd like, you can even watch the focused sushi chef (or itamae) executing his art on the chopping board.
Once you've ordered, you receive a small fresh salad as a side. The sushi was not just a vibrant sight, but an explosion of flavors. If colors were food, this is how they would taste: Fresh, soft and crunchy, with a delicious little kick of green wasabi.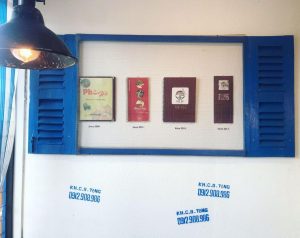 I became a huge fan of Vietnamese cuisine when I moved to Seattle. Before, I'd always heard about how good it is but had never tried the food — and god, now I can't believe I've been missing out on the mind-blowing flavors all these years.
This place is everything a foodie like me could ask for. Before stepping inside, the first thing you notice is the tempting scent that makes even those who have just eaten elsewhere want to stop by. Upon entering, I was reminded of my time in Southeast Asia. The aquarium, plants and blue windows evoke a unique nature-inspired flair.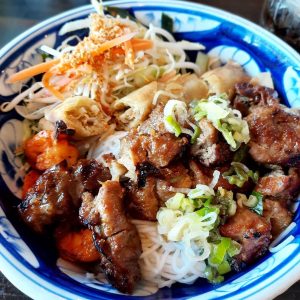 Pho Ha's food is a different level of fantastic. My server, Louisse, provided considerate service and even helped me decide on what dish to order. She told me that the restaurant is one of only three places in the Seattle area that offers traditional noodles just like they do in Vietnam.
And I enjoyed every. Single. Bite. In fact, I liked it so much that I've returned numerous times since then; and on days when my partner and I feel low, we order their food. Usually, we end up in the elevator with people asking us what the tantalizing aroma is.
This is one of those places I know I'll be still visiting in my 50s and beyond… because once you've tried Pho Ha, you can never live without it.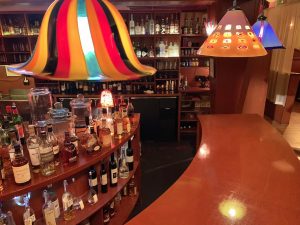 We all know those days: You want to go out for dinner but just can't seem to decide what you're in the mood for. Whether it's pizza, pasta, fish, burgers, dessert or just some classic truffle fries, Saltoro has it all!
The restaurant offers both land and seafood in a wide range of mouthwatering options that'll satisfy all of your cravings, complete with a diverse cocktail menu.
The entrees come in both small and large plates, which I greatly appreciate — not only because I feel bad about how much gets tossed away in restaurants on a daily basis, but also because I grew up filling my plate with only as much food as I could eat.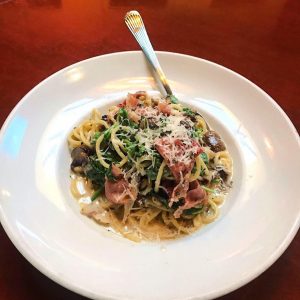 Saltoro has other virtues as well: I felt comfortable and taken care of. The ambience somehow reminded me of a big jazz bar and the colorful lamps gave the interior a unique touch. Here too, COVID-19 precautions are in place both indoors and outdoors (featuring heat lamps outside for your late-night dining needs.)
At Saltoro, the orders are taken with a smile, the food is beautifully plated by knowledgeable hands and your taste buds dance.
Fun fact: Kitchen chef Cesar Mendez studied ESL at SCC in 2004. Mendez became the executive chef of Saltoro in 2008 and has been a co-owner since 2018. "We are here to make people happy," Mendez said of the restaurant.