A New King in Town
Joshua Groom
April 24, 2019
PHILLIP KING HIRED AS VICE PRESIDENT FOR STUDENT LEARNING
SCC's administration has selected Phillip King to be the school's next Vice President for Student Learning (VP-SL). He is expected to assume the position July 1, according to SCC President Cheryl Roberts.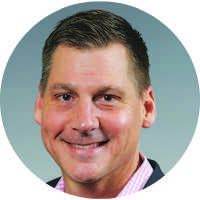 "Mr. King's background and values around inclusion, diversity, and equity were in strong alignment with the college's values," Roberts wrote in an emailed statement, adding that those "comments (were) shared by those who interacted with him during his interview process."
The role requires communication between the president of the college and is the SCC's chief academic officer. Additionally, the VP-SL is in charge of SCC's academic and enrollment management strategies and has a hand in assuring that there's support in educational programs as well as managing student enrollment and retention strategies.
The office of VP-SL is currently held in a temporary capacity by Bayta Maring, who did not seek permanent status in the role, she said.
Asked if she had advice for King as he prepares to become VP-SL, Maring said, "I have more than I can give in eight minutes (remaining in the interview)."
She emphasized the role of listening empathetically and that, by the nature of the job, the VP-SL disappoints somebody with every decision.
"Phil King brings a wealth of experience in community college leadership," Maring said, singling out experience in team building. Like Roberts, Maring also pointed to King's commitment to equity as a strong quality.
King was one of a number of candidates who participated in an open forum at SCC before he was hired and answered several questions and situations related to the campus.
The prompt given to candidates was centered around student enrollment. Of all the candidates that the college interviewed, King was the only one who brought supplemental materials to his presentation, according to Andrea Chin, a member of SCC's human resources department who was leading the forum.
"(Enrollment and recruitment) is really about the whole college moving together to get this work done," King said in opening.
He highlighted a handful of key areas of emphasis when the college recruits new students and strategies to retain current students.
"You start first with data to inform your practices," he said. "You start with a three year average, and set a target based upon that average."
He also discussed the consistency of branding and having a message as well as students who drop out of courses within the first two weeks of quarter. He emphasised the need for support of students who are interested in SCC but for one reason or another decide to drop courses.
"If we go back out immediately, we can pick them up again," he said.
As noted by both Maring and Roberts, King spent a large portion of his open forum discussing interacting with people of different backgrounds. In response to a question from a staff member, he discussed his own struggle with understanding white privilege.
"I had to come to a discovery around things like the fact that … I am a man, and I am a white man," he said. "But I was raised in a multicultural household where there were immigrants in the family and people spoke different languages."
He said that he felt he fit in with these people, and didn't think of himself as any different when he was younger. "Everybody has an equal voice to me," he said. "I've had these continuous moments over the past 25 years in my life to check myself and ask these questions (about the privilege that represents)."