Hot food has finally returned to Shoreline Community College. Food trucks brought a new food option for hungry students on campus.
Two food trucks have been parked from 11 a.m. to 2 p.m. every Tuesday and Thursday in front of the 9000 Building. Long lines of students have formed in front of the food trucks on those days.
Tran Dinh Minh Duc, stated that the line for food trucks is "a chance to meet your friends… because most of the time I stay home because I don't have anything to do." Another student, Alicia Hadi Wibowo, noted down that the food was an upgrade compared to the food offered at Avanti Market. "It would be even more of an upgrade if it's cheaper," she said.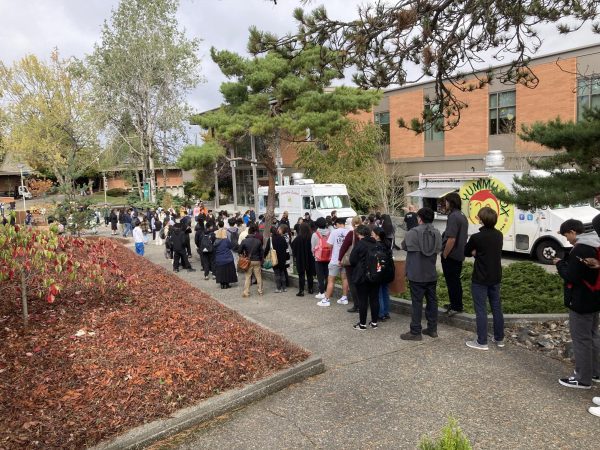 The timeslots were chosen to coincide with the most student traffic on campus, said Cat Chiappa, the executive director of strategic communications and marketing.
So far, such a strategy has proven useful, Emma Dickenson, an employee from Oscar's Pizza Food Truck explains that, "It's pretty busy, on-and-off," when people are in class they get to prepare the food, when it's lunch time they would be ready to serve. In addition to the vivid lines that populated the PUB Courtyard, Sam Kekiev, an employee at the Tabassum Food Truck, considers community colleges as a prime sport for students who like to grab and go.
While the food trucks are welcome, Wibowo would like another option: "I feel like the re-opening of the cafeteria would be good," she said. She said that maybe the college could purchase food in bulk and offer a cheaper price for students.
Chiappa seems to have understood this concern. "We do plan to go out and look for a more permanent option, but right now we want to offer the food trucks as a bridge to that option.".
Chiappa said they are working with SeattleFoodTrucks.com, which schedules the food trucks that arrive on campus. Students can search the website at this link to find the plan for future food trucks..